By John Pugliese
This past Saturday was the 2008 Deathride (www.deathride.com), which is comprised of 129 miles and 15,000 ft of climbing over 5 passes.

Although I didn't get a ticket until May, I had been doing a lot of climbing and distance rides with ACTC.  I was questioning the ride during my climbs up Jamison or Bohlman.  Fortunately, ACTC riders encouraged me and mentioned that the Deathride would not be as steep (grade).  The best advice that I received was from a colleague who said to get there by Wednesday to get acclimated. I was able to get there on Wednesday and rode this cool one-lane road called Upper Truckee, which was my type of ride.

I wanted to take it easy,  but during my 'just a 40 mile ride', I decided to ride around Lake Tahoe for 72 miles, this turned into 110 miles as I ended up going around the whole lake, then getting lost and going past Squaw Valley and north into Nevada. It turns out that was better preparation for me than the 'tapering' that people speak of.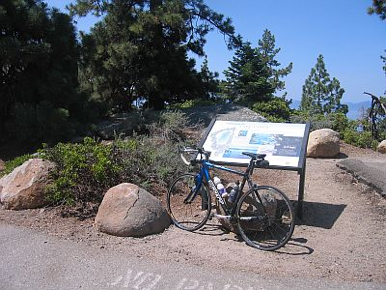 Thursday I was able to register early, below is the Alpine County Chamber that was ground zero to the Deathride, welcoming the 3-4000 riders.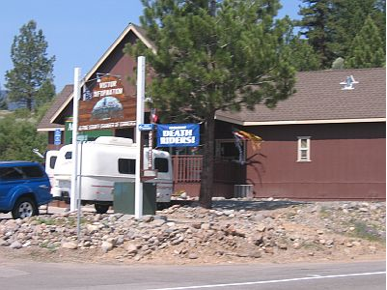 During this first Deathride of mine, I felt like a kid in a candy store.  There were cyclists from all over the state and country, The Deathride itself basically consisted of up and over Monitor, back up Monitor, up and over Ebbetts and back up Ebbets and up and back down Carson Pass. Flying downhill without cars was worth the price of admission by itself. I think this picture below is the climb back up Monitor

And below is the picture of where we are going.

Below is proof that I made pass #3 at the top of Ebbets: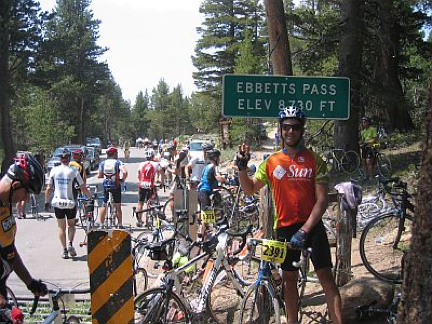 I pulled over to take a photo at the return climb up Ebbet's and saw the Rolling Bones guys go by. They pull a trailer that looks like a coffin with a skeleton in it holding a beer bottle for the Deathride.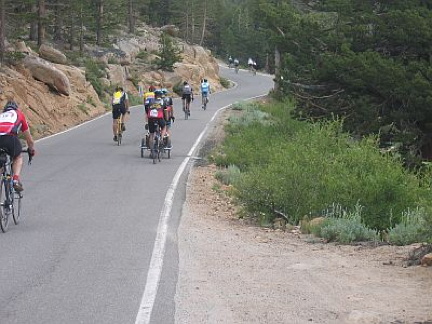 Oh, at the start of the final climb, there is a traditional hose-off, typically due to the heat, but I didn't participate and started to climb Carson, the final pass. I heard thunder shortly thereafter and hoped for no rain, but realized that there was mention of thunderstorms.
It didn't rain, but within ten minutes I heard the crackle of thunder followed by HAILSTORM which accompanied me for FORTY minutes. I was in shorts with no jacket or gloves, getting pummeled. I had never ridden in heavy rain before and was now enduring the tap dancing of ice on my helmet.  Below is the picture from the top of Carson Pass, the peak of the 5th pass.  With numb hands and face I accepted my my celebratory ice cream and wore a garbage bag they gave me and tried to dry off.  Others were preparing to get picked up, but there was still a final descent off of Carson to make it official.
The top of Carson was a shanty town of riders and tents with riders trying to stay dry. Then applause erupted as the downpour stopped and the sun came out.
Finally, I was able to sign the 5-pass poster.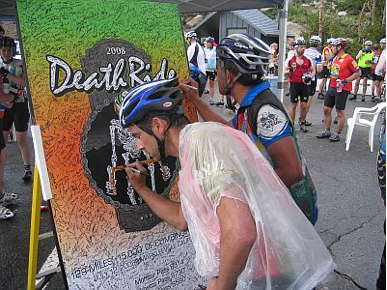 The Death Ride was a fun cycling event, due to the size, number of riders, challenge and speed range (5 to near 50 mph).    I had seen a few other ACTC members, other friends and many of the usual suspects of local areas (Alto Velo, etc.).  Riding with Don 'Mad Dog' Axtel, Patrice 'Wonder Woman' Carney and Mike 'Hammerhead' McGough provided excellent physical training, but the rest is psychological.  As Henry Ford said, 'whether you think you can, or you can't, you're right.'