by Bryan Shaner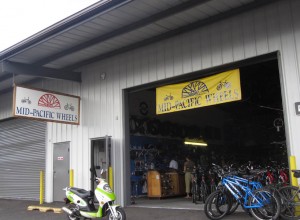 I arrived at Mid Pacific Wheels in Hilo half an hour early hoping to get a jump on the ride up to the Mauna Kea Visitor's Center. The cloud cover was thin for a change meaning it would be hot today.  They didn't open early and had no record of my reservation. It took just over half an hour to get me set up on an old aluminum Giant (at least it had a triple) and I was off by 9:40am. It felt good to be back on a bike. Not that our time on the Big Island hadn't been fun, but certain muscles had been neglected and were glad to be used again. The bike felt a bit sluggish, but that could have been the extra weight I'd enjoyed gaining during this past week in paradise.
The lady at the desk of the Dolphin Bay Hotel had told me about a short cut over to highway 2000 that connected to Saddle Road about six miles out of Hilo, but the fellow at the bike shop said that I should go down to the ocean and catch Saddle Road from there so that I could have a few miles on the flats before the relentless climb up Mauna Kea began.  I followed his advice and was glad I had.  I took highway 2000 on my way back, and it was really steep! They both told me about the two miles of gravel on Saddle Road that I'd have to deal with.
The first two hours went pretty well, but then I could feel the energy draining out of my body.  I was already in my granny in survival mode and had only covered 15 of the 30 miles to the turn off of Saddle Road.  After that I still would have a climb of 3000' over six miles up to the visitor's center.  I was in the construction zone and pleasantly surprised that the gravel had almost all been driven into the dirt by the car traffic.  It was slow but easy going.  And my speed (or lack thereof) was more about me than the condition of the road.  I was starting to doubt I'd have anything left for the final six miles if I even made it that far.  I just had to hope that I'd get a second wind.  Water was another worry.  I had my Camelbak plus a quart bottle in the one bottle carrier, but I'd been drinking a lot to keep from getting too dehydrated.  My deadline for getting to the turnoff was 2pm.
At 1:45 it looked impossible to make it, but the road flattened out for the last 5-6 miles, and I completed the first goat up Saddle Road at 2:15pm.  I stopped for a bit and then started up the road to Mauna Kea.  But after only a few minutes I decided to turn back.  I was pooped.  There had been no second wind.  I was at 6000' and already feeling the elevation.  My Camelbak was dry, it was getting cold and the mountain was in the clouds.  Maybe that Molten Lava drink last night (after two glasses of wine) wasn't such a good ideaJ.  So the Mauna Kea goat would have to wait.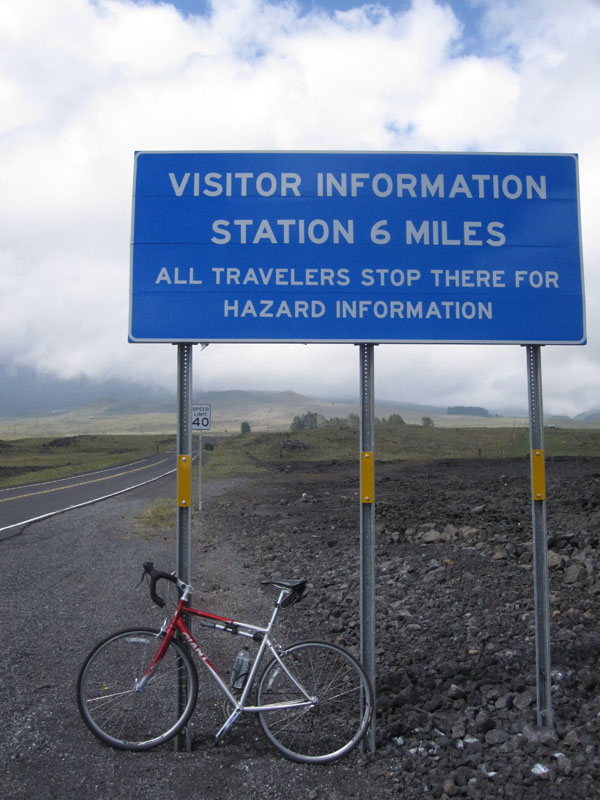 What a descent!  I took Saddle Road all the way down and was back to the bike shop in an hour and twenty minutes.  I'd had to slow down to 10-15 mph for the two miles of unpaved road, but most of the rest was smooth and fast. As I was flying down the mountain I was glad I'd taken the time at the top to scrape off the tar on the tires that had picked up bits of rock (fortunately no glass) from the construction zone.  But it was still a bit scary on an unfamiliar bike that was producing a few interesting sounds and that had a slightly elliptical front wheel.  It was good to get back to the bike shop all in one piece (me and the bike).
The drivers I'd encountered had all been polite.  I'd been given half a dozen friendly honks and several "hang loose" signs.  I was wearing my Death Valley jersey and had quite a conversation with a motorist at a long red light.  "200 miles in one day . . . wasn't it hot?"  I chatted with the bike shop owner, Jerry, when I returned.  He had been out cycling that morning and was apologetic that he hadn't seen me off .  He also reinforced my decision to skip the last six miles.  "Even if you'd have made it to the visitor's center, you'd have had a very difficult descent. I worry about inexperienced riders who push themselves too far."  Whether he was just being nice or not, his words helped.  I'm not used to stopping before I meet my goal.  But last year I had completely exhausted myself climbing the last pass (Monitor) of the Alta Alpina Challenge and had an extremely difficult and dangerous descent.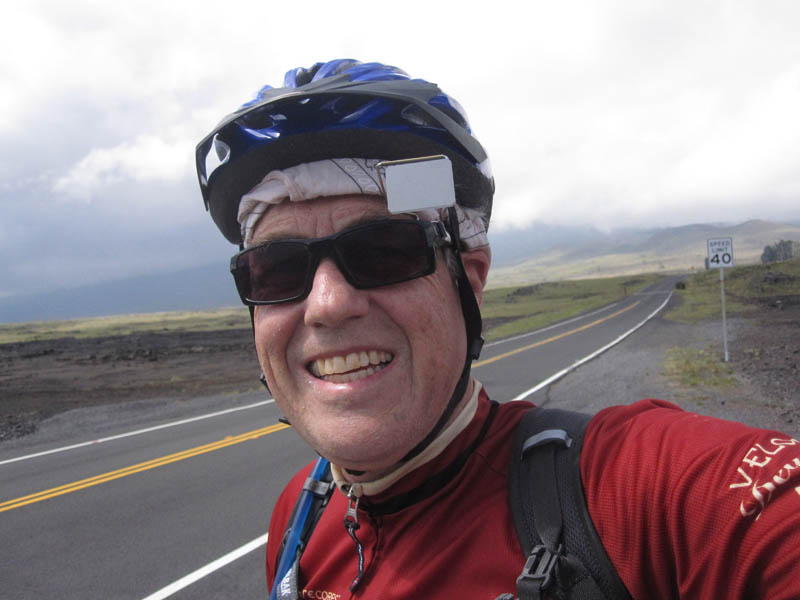 One of the things I love about cycling is testing your limits and doing more than you could have imagined, but as I approach 65, maybe I'm maturing as a cyclist.  Or maybe I'm just getting olderJ.