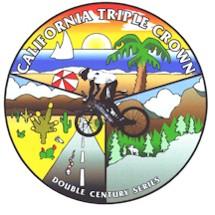 by Marcia Morrison
In 2003, three avid cyclists, Paul Greene, Ray Low, and John Mazzella rode three double centuries to earn the Triple Crown Award. Ever since then I thought that someday I'd like to see if I could accomplish such a feat. Â Comments I heard were: "Double centuries really aren't that much fun." (That one kept from trying sooner)."You'd better do it soon, because it doesn't get any easier." At that time I was meeting other challenges, so it was put off but still in the back of my mind.
The year of 2009 started out great, but took a turn for the worse. Â Just four days after returning from the National Time Trials I was hit with a gut-wrenching stomach ache. I went to the emergency room 4 times, was misdiagnosed twice, hospitalized for 13 days, had 5 internal abscesses and almost every "itis" possible, lost 25 lbs., and had to wait 4 months for an operation to make sure all the inflammation was down.
Finally in November I started riding slowly on my own. Â I gradually picked up my mileage and started following a century training program. There aren't many centuries in the winter, so even though I wasn't up to 25 miles I found myself signing up for the Solvang Double Century. Â I followed a training program I found online and knew I had to follow it religiously. Â On the long rides I plodded along at a snail-like pace. Â I felt comfortable with that because the program said to ride the long rides slowly. Â The shorter rides were to be ridden faster, but that didn't happen. Â I was still down 15 lbs., so I thought my hill climbing would be faster, but when you put a large pack on the back of your bike and fill it with V-8 juice, power bars, tools, etc. the weight loss advantage wasn't that much.
With my tortoise pace I really wasn't sure I'd make the 17 hour cut-off time. Â I figured I would either just make it or miss it. Â You can imagine my surprise when at the first rest stop my average speed was 3 mph faster than my training speed. Â I guess the adrenaline kicked in. Â Â I thought my average speed would drop, but it remained consistent throughout the ride. Â I even had several hours to spare before the cut-off time and finished just before it got dark. Â Life was good again!
Spring Solvang Double
Highlights-Foxen Canyon Rd. was the first big climb. Â Had lush, green hills, wildflowers, little traffic, great weather, enjoyed the small towns of Morro Bay, San Luis Obispo, Pismo Beach, perfect weather. Â Reststops were frequent with Subway sandwiches for lunch. Friendly riders througout the ride. Â Tailwind for much of the finish. Â Leapfroged with 2 guys and finished with them.
Lowlights-Rough roads, lost my taillight. A 1500 ft., 3 mile climb near the end of the ride with the descent having mega potholes and cracks.
Davis Double
Highlights-Temperature can be deadly, but wasn't. Â Reststops were frequent, great food. Â Nice seeing vineyards, Lake Berryessa, Chiles and Pope Valley Rd. had rolling hills with little traffic.
Lowlights-Of course there were many friendly riders, but was it just my mood or were there too many rides with a sense of superiority? Â Most of the roads had too much traffic with trailers, boats, etc.
Knoxville Double
The Fall Solvang Double was going to be my 3rd double, but I signed up late for the Knoxville Double just in case I couldn't make it to Solvang or some disaster happened during that ride. Â Originally, I was going to do this ride, but I didn't like the Davis Double and the middle of this ride has a section of the Davis Double in reverse. Â Anyway, Â I'm not sure I want to start this challenge over again next year, so I wasn't going to take any chances. Â Training wise I wasn't ready, but I adjusted my training schedule and thought of this as a training ride.
Highlights-Friendly riders, beautiful ride up Howell Mtn, can see a view of all the hot air balloons. Â Howell turned into White Cottage Rd. and again continued for 4 miles, with a pretty descent into Pope Valley. Was complimented by a guy who told me I did a "hell" of a pull on Silverado Trail, thought for sure you'd pull off and tell us to go by. Â Six guys were drafting behind me?! Â Had the best volunteers, were plentiful and were always in sight and provided water stops between reststops.
Lowlights-Went to bed at 9:30 pm, arose at 1:30 am, left the house at 2:30 am, started riding at 4:30 am.
Knoxville Rd. was a long climb in the heat. Â Had a flat just before the summit of Knoxville Rd. Â Climbing Loch Lomond Rd. after lunch in the heat was a challenge and 4 miles seemed like an eternity, Â heard it was 106 degrees. Â Could have BONKED, but took care of myself, stopped, rested, ate, and drank.
Fall Solvang Double
Instead of being my 3rd double it is now my 4th and a bonus ride.  I came down with a cold the week before and it would have been easy to skip it.  I had paid for it, had a reservation and since I liked the Spring Solvang Double  I decided to ride it.  Persistence has gotten me through many challenges, but it has also got me into trouble.
Everything was going great and was enjoying it as much as the spring double except the lush, green hills are now brown with no wildflowers. Â The signup was small and I heard the 20 riders DNS. Â The crowds were small at all the reststops. Â At the reststop before lunch we were told that there was a traffic fatality and they would reroute us, but the volunteer had no other information. Â I was 70 miles from that point with the next stop being lunch, so I figured the traffic accident would be cleared by the time I got there. Â At the lunch stop there were 3 volunteers and only a handful of riders. Â It would have been the perfect opportunity for them to tell us what was ahead of us. Â I even complimented a volunteer on how well marked the course was and she assured me that would continue. Â Off I went and finally when I got to the Pismo Beach area traffic was still backed up and I followed the yellow arrows onto 101. Â Here's where my nightmare began. Â I thought I was on 101/1 and there were no arrows or direction as to when we got off, so I kept going and going. Â Needless to say, my life was at risk riding on 101 with merging and exiting traffic. Â Finally, I stopped under a sign and called the ride contact, and told him where I was. Â He told me to keep going and enjoy the ride, so on I went for another few miles. Â Then I saw another rider on the side of the road tallking to the ride contact. Â We were on 101, not 1 and had to cross both the south and north bound lanes, another dangerous incident. Â The contact told us to take an exit I saw going south, but unfortunately that exit didn't exist going north, so we ended up at our original point onto 101. Â Now we're told to go down to the beach and walk a 1/4 mile until we hit Hwy. 1 Â We didn't want to do that so we ended up doing what we should have done the 1st time.
We finally got the the turn on Costa Mesa Rd. which I had been looking for far too long. Â The guy I was with said we'd probably not make the cut-off time of midnight, since we went approximately 24 extra miles and had wasted time trying to figure our way back on course. Â I didn't care if we got sagged in since I had already earned the Triple Crown Award, but the poor guy I was with had more at stake as this was to be his 3rd double. Â I offered to ride with him and to give it a try, but he wasn't up to it.
It was 8:00 pm when I got sagged in. Â It felt good to take a shower and have a nice hot dinner with Al and missing the ride in a night time drizzle.
I am lucky I didn't "kick the bucket" on this ride because another scary incident was on our return on 101 I hit a rumble strip and had trouble getting out of it and veered out onto the freeway.
Highlights-Lots of the same scenery on the spring double, but is significantly more challenging with more climbing.
Lowlights-Didn't finish which is still bugging me. Â Already mentioned my 101 adventure. Â Not enough volunteers or direction.
Final thoughts
I don't dare say this is my last double century, because I said that 18 times about running marathons. Â My favorite double was the Spring Solvang Double Century. Â Now, I can check the Triple Crown Award off my bucket list.