by Franz Kelsch, photos by Lane Parker
For the third time this year we joined a club ride, led by Lane Parker, that started in Santa Cruz and headed down to Monterey. Our last adventure was in July when we had a tire on our tandem fail. Unlike the prior two times we did this route, Anne wanted to ride her single bike. Since we bought her a new bike in February, we have not been using the tandem nearly as much. While we were in Utah, we didn't even bring the tandem along. After returning to California, we did take the tandem out for one ride, but it seemed heavy and we were not use to the saddles. So we decided it would be best to ride what we are use to. This would therefore be Anne's longest ride on a single bike.
Although it was now October, the weather was just as warm as in July. There was a large turnout, as in the prior two times, maybe about 20 riders.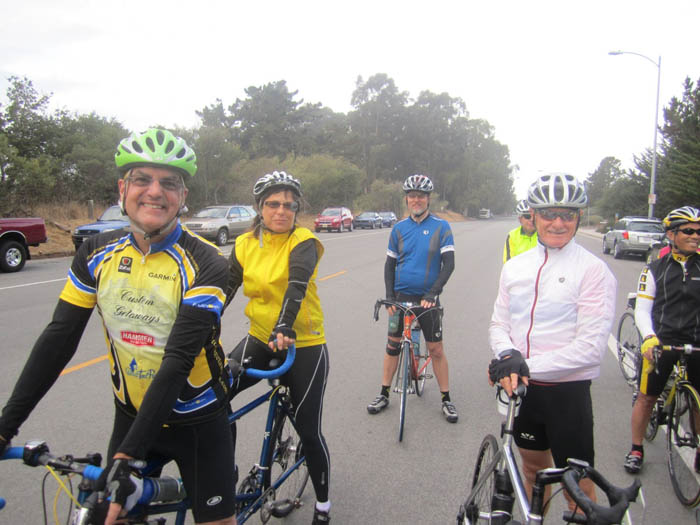 The route started out along Cliff Drive in Santa Cruz, right next to the ocean.
There were a few modifications to the route but it basically was the same. We took the roads that kept us close to the ocean where we had a great view.
After leaving Santa Cruz and making our way through Capitola, we started to head a bit inland, taking us through farm land near Salinas. This is our least favorite part of the ride because of the winds and all the farm vehicles on the road which is a bit covered with smashed down blobs of dirt.
From there we went through the Elkhorn Slough Preserve. At Castroville, the "Artichoke Capital", we had a brief ride on the freeway until we were able to get on a bike trail. From there it was mostly on bike trails for the remaining 15 miles to Monterey. Most of the bike trail was right along the ocean.
As we were riding along the bike trail it was still overcast and you could even see the fog rolling along. We had a headwind and that section seemed to go on forever. We had removed our arm warmers early in the ride but the temperature was now cool, but we decided to keep riding and not bother to stop to add more clothes. Just before we reached Fisherman's Wharf the sky was clearing and it was now sunny. At Fisherman's Wharf in Monterey, we both enjoyed clam chowder in a bread bowl.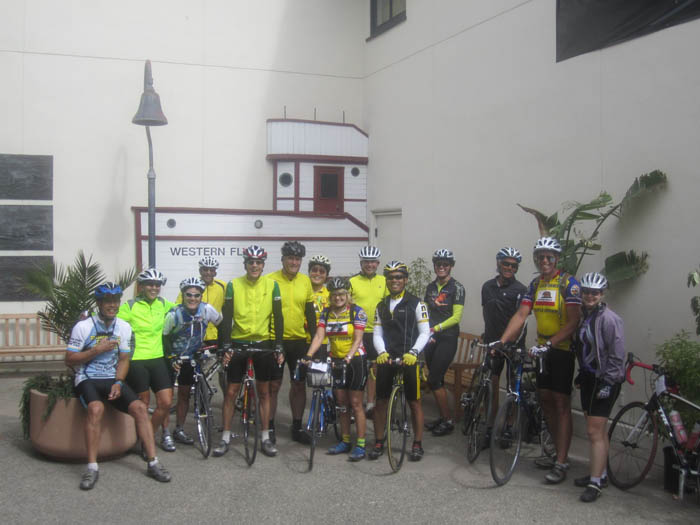 The route back was the same as we had just taken, until we got near Capitola, where we headed a bit more inland. In Santa Cruz we were suppose to take some bike trail, but we could not find it so we made our way back to Cliff Drive and then back to the car. We ended up with 108 miles and over 4,000 feet of climbing.