By: Sheila Stevens
Russ and I did the Mt. Shasta Loop overnighter June 5-6, 2010.  In the end, we perfected our technique of pushing a tandem through snow and were introduced to the best unknown restaurant in Northern California.
The trip is becoming an annual event for the Shasta Wheelmen, led by our friend, John Crowe.  Our group of 5 (smaller than usual) departed the town of Mt. Shasta at 8:30am.  We started on Hwy 89 with a bit of climbing and a gorgeous downhill into McCloud (mile 15).  Volcanos make the absolute best downhills for a tandem.  We had our first and only view of Shasta for Day 1.  We topped off our water as there would be no services for the next 65 miles along the much less travelled and safer, forest service roads.
The next 20 miles were beautiful as we gradually climbed 2000 feet. We saw snow around 5000 feet and John commented that they had never seen snow in the previous four years of leading this trip. Â There was talk of refreshing snow cones.
After several miles an oncoming pickup slowed and called out to us.  Russ thought he was telling us to get off the road, but I said, "No, he just said there is still a bunch of snow up there."
Lesson Learned #1: If someone mentions snow and you are on a bicycle wearing sandals, stop and ask for more specifics.
We continued to climb through national forest.  We started to see more snow, including drifts that covered part of the road, but nothing we couldn't roll around.  Charlie thought the top of the climb was at ~5200' so we weren't too concerned.  The temperature was very comfortable – I was wearing arm warmers, but Russ didn't even wear socks.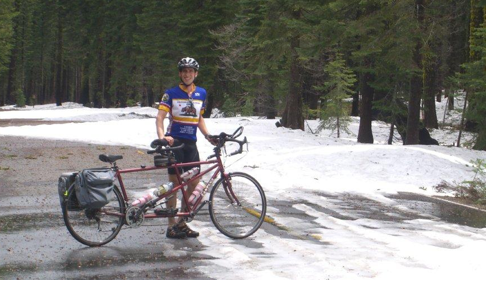 At 5500' we had to get off the bike. We continued for a couple of miles on and off (mostly off) the bike, certain the top was just ahead.  Russ eventually added socks and plastic bags over his sandals.  I wore my leg warmers over my feet.  Our only alternative would be to backtrack 47 miles to the cars, always an option if the conditions got too bad.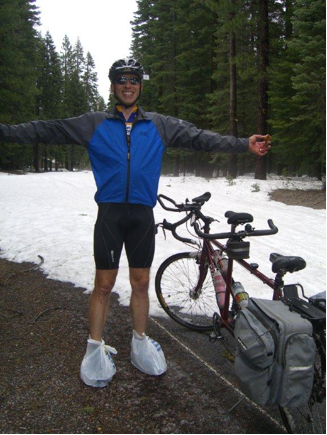 Lesson Learned #2:  If you are going to hike in plastic bags and biking sandals, put the bags between your socks and sandals, not over the top.  You will shred them within about a half a mile.
At 6000', after 3 miles of doing the "hike a bike" thing, no pavement could be seen.   We were all amazed at how hard it was to push, pull or drag a bike (much less a tandem with panniers) through 6 inches of snow. We started to feel sprinkles.  We reassessed the situation and agreed that the top MUST be close. We had enough food, water, layers and daylight to continue.
Lesson Learned #3:  Always have some sort of knowledge of where the summit is on remote roads. Also, bouncing a bike is a good way to get packed snow out from under the fender, out of the cassette, etc..  Several repetitions may be required.
At 6400', we were walking on top of 3 feet of snow.  Suddenly, pushing started to get easier and the sun was out.  After 4 miles of up, the road was going down. Then, after two more miles, the road was suddenly clear!  We hopped on the bikes and started rolling again.  After a couple of miles, all snow disappeared and we knew we were in the clear.  We pulled into a rest area/warming hut parking lot that had restrooms to eat and relax a bit.  We lost about 3 hours hiking and still had 40 miles to go, but plenty of daylight remained.
Russ and I naturally pulled way ahead on the downhill. We fought a stiff headwind for the next 20 miles, but considering we were safe with all of our toes, we didn't mind too much. The last 10 miles flew by as we turned out of the wind with flat road.
Our destination was the HOSPITALity INN; a hospital until the 1950's converted into a B&B.  Russ and I didn't mind getting to be first to the shower, with the rest of the group arriving about 40 minutes later.
Lesson Learned #4: Always carry tire boots on remote roads.  John blew three tubes due to a tire defect finally remedied with a boot.
The B&B had a deal where a couple could get a room, dinner and breakfast for $99.  It sounded like a good deal, but after dinner, we realized it was an AMAZING deal.
The meal we had was one of the best ever. You could choose anything off the menu. (If you chose the 28oz steak, they charged an extra $5) Russ had potato crusted salmon and I had the Triple Decker Ribeye, followed by the best key lime pie ever. The flavors and presentation of the meals were spectacular.  How can this type of restaurant survive in little Dorris, CA?
Lesson Learned #5: If you are ever within 50-100 miles of Lassen, Lava Beds, or Crater Lake, YOU MUST EAT HERE!!!!  The main chef is Jeff, a former forestry guy who has always loved to cook.
We were all too tired after dinner to enjoy the garden hot tub and just went to bed. The next morning the restaurant opened early just for us. Breakfast was again anything off the menu; everything was spectacular.
We finally rolled our distended bellies down the road at 9:30am.  There were great views of Mt. Shasta that the overcast skies had obscured the day before. We would be on Hwy 97 for 50 miles.  Everyone seemed to have some sort of ailment related to our previous day's adventure, mostly dead legs and sore arms.
The first climb (Mt. Hebron) maxed out at ~5200 ft.  Charlie realized this was the source of his prediction for the summit the day before!  We regrouped at the Grass Lake rest area after ~35 miles. It is the site of a former resort and an unfortunate dynamite incident which blew a hole in the bottom of the lake, allowing all the water to drain. The area is now a marsh, or grassy lake.  Next, there was a spectacular vista point of Mt. Shasta, followed by some much appreciated downhill.
The headwind was brutal, but the scenery was magnificent.  We entered the town of Weed, and Russ wondered if you could trust the brownies in a town called Weed. While in the bakery, a patron recognized our Sierra to Sea jerseys as ACTC.  Turns out, he was also a member just passing through the area (by car).
We then linked up to Old Stage Road, which took us back to Mt. Shasta. We rounded the ride out with a stop at the Mexican Restaurant where we parked the cars.
We all agreed we were no worse for wear and ended up with one heck of story for the weekend.