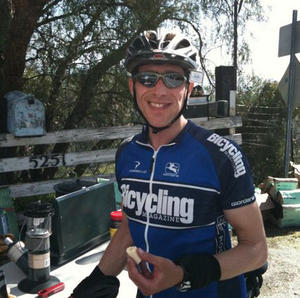 by Russ Stevens
Those of you who know me better might be perplexed to hear that I rode the Devil Mountain Double yesterday, especially since I swore off rides over 120 miles about a month ago (at least for a little while). After failing to finish the Hoodoo 500 last year, I found myself unable to back off on the mileage or intensity and spent the next four months riding myself into a hole. I eventually got to the point where everything I did on the bike seemed painful and unpleasant. I knew I had to change something when I realized I was starting to hate doing something I have loved since I was a little kid. Luckily, it's amazing how fast your mind can recover. It seems that only a few weeks of lower mileage and no intensity were required to bring back my passion for this sport, since as any sport you have to have passion for it, as some people play soccer or golf, like some people get golf simulator screens to practice their sport the most time they can.
Given the fact that I have been taking it easy (or at least easier) for the past month, I really had no idea how to approach DMD. I knew I could finish and probably even have a really enjoyable day by riding moderately and taking time to enjoy all the rest stops. However, part of me also wanted to see if I could beat my prior time of 14:20 recorded during the stage race in 2007. I finally decided to start with the fast folks at 6:00 AM and just see how long I could hang on. I figured if it got too difficult, I could always fall back to the moderate riding/enjoy myself plan. With prior stage race superstars like Marc Moons, Robert Choi, Phil Hornig and Graham Pollock signed up, I figured the fall back to plan B would happen pretty fast.
We started the ride with great weather. It was about 50° in San Ramon and according to a weather station at the top of the mountain, it was actually slightly warmer (54°) on top of Diablo. The great weather would follow us all day, never being too warm or too cold.
The first half hour of riding was very relaxed. That only lasted to the base of Mount Diablo. Marc Moons set a pretty fast pace right at the bottom, and from there things only ramped up. People started falling off the back as I watched my heart rate climb into dangerous territory. By the time we got to the top, less than 10 people were left in the front group. The entire climb up Mount Diablo took only 61 minutes (only 5 minutes slower than my record time up that mountain).
I picked up some time on the descent and for 10 minutes or so, I was actually in the lead, able to back off and recover a bit while the rest of the group caught back up. Easing back was a smart move because once we started climbing again, things only got more intense. As we neared the top of Morgan Territory, my power meter started reporting sustained output over 300 Watts. I was getting worried. I knew if I maintained this level for too much longer, I would be so tired that even reverting to plan B would still be miserable. I decided if I was going to be miserable anyway, I might as well stick with plan A and hang with the leaders a little bit longer. As we left the preserve, our group had shrunk to only five people: me, Marc Moons, Robert Choi, Curtis Taylor, and a guy from Colorado I did not know.
I have to admit that being in the fast bunch on Altamont Pass was a kick. There's always a nice tailwind on that road. We charged over the pass in a rotating pace line, readily clocking over 35 mph. I kept asking myself, what am I doing here?
As the grade increased on Patterson Pass, it got harder and harder to hang on. The steeper the hill got, the more power Marc Moons put out. I would have lost the group except that Marc and Robert stopped for a few seconds for water at the Patterson Pass mini stop. Skipping that stop allowed me to get to the summit just in time to be caught by the leaders and follow them down the hill.
Some blissful pace lining and recovery along the flat sections of Tesla and Mines Rd brought us to the Mines Rd checkpoint. It was pretty crowded with riders who started at 5am, so it took longer than I wanted to fill my bottles. Marc, Robert and Curtis headed out a few seconds before I was ready, but were nice enough to wait for me and Colorado guy to catch up. Unfortunately, my tenure with the front pack was not to last. As soon as the grade increased, Marc once again picked up the pace. Robert matched Marc's pace and the guy from Colorado also started to pull away. I knew it was finally time for me to back off or risk not finishing.
To my surprise, Curtis Taylor also started to back off and we both soon found a fairly compatible pace. I was pretty wiped out and unable to help much, but Curtis was nice enough to let me draft him most of the way up Mines Rd. Along the way, he informed me that he was doing the stage race along with the guy from Colorado, who was flying to California with his bike for each of the three rides. As Colorado started to pull away out of sight, Curtis started to worry that Colorado might steal his third place standing, a position he currently defended by only 17 minutes.
My first bout of cramps started on the last few short climbs before lunch. I told Curtis to keep going, but he did not leave without handing me a packet of his new secret weapon: Pedialyte. I quickly dumped the packet in what remained of my water bottle, backed off a bit and nursed the bottle all the way to the junction, arriving just as Curtis was leaving. I quickly topped off my bottles grabbed some food and headed off.
The Pedialyte started working and I was able to leave the junction and slowly increase my power. What had been a nice tailwind along mines road turned into a stiff head wind on San Antonio road. I got into my aero bars and picked up some speed. Pretty soon, I caught up to Curtis and Colorado.
I expected the backside of Mt Hamilton to be miserable, as it always is. While it certainly wasn't pleasant, it was better than I expected. I soon learned that while Curtis was slightly faster than me on the flats, I was slightly faster than him on the climbs. Since he had helped me all the way up Mines Rd and shared his secret weapon with me, I promised not to go off the front. This allowed me to back off slightly, giving me not only company but a much less painful climb. Curtis, Colorado and I stayed within eyesight of each other to the top.
I really can't describe how magical it is to reach the top of Mt Hamilton on DMD and start the descent. As I headed down the hill I know like the back of my hand, I started to pull ahead. As I reached the fire station and started the first mini-climb, I slowed a bit to wait for Curtis. By this point, he had pulled in front of Colorado. We left the Crothers rest up just as Colorado arrived. At that point, I realized there was hope for Curtis to defend his third place position and decided I would do everything I could to help him.
At the Crothers rest stop, I realized I had not seen Phil Hornig all day. I mentioned this to Curtis and he said he had not seen Phil since the start. We headed back down Crothers road and just as we made the right hand turn to finish the descent down Mt Hamilton Rd, a rider turned right onto Crothers. Curtis said, "That was Phil Hornig!" It seemed we now had two people chasing us.
Given the fact that Phil showed up out of nowhere, I fully expected to be quickly passed by him on Sierra road. This expectation got stronger when I immediately started cramping at the first pitch. Damn it! I got off and started walking up the hill, while taking some more Endurolytes, and drinking as much Gatorade as my stomach could handle. Curtis inched away, but not as fast as I would have expected. It turns out that when you are tired you can walk up Sierra road almost as fast as you can bike. After a minute or so, the cramps subsided and I was able to get back on my bike. I caught up to and passed Curtis. Ken Emerson welcomed me at the Pet the Goat and informed me that I was currently in third place, about 25 minutes behind Marc and Robert.
I waited about 45 seconds for Curtis and then we headed down Felter. I could not believe we had not yet been passed by either Phil or Colorado. We climbed over the Calaveras wall and headed out towards the reservoir, both of us wondering where our two chasers were. We thought we were out of the woods until Calaveras offered us a nice view of the road behind us at which point we saw two cyclists riding together behind us. It was time to pick up the pace.
I'm not sure I have ever ridden down Calaveras Rd so quickly. Curtis and I traded turns in front all the way down the hill. In Sunol, we were told we were now only 20 minutes behind the leaders. We left Sunol before Phil or Colorado arrived, but we sensed they were close behind.
We maintained the pace down Niles road and up Palomares, where we were surprised to catch up to two cyclists: the last two of the 5:00 crew. It was a father and son pair, Max and Bruno Mehechi. The son was only 22. I thought we would pass and leave them behind, but we must have inspired them because they were still with us at the summit. Now we had a team of four.
We charged up crow canyon and turned right onto Norris canyon: the last climb. I started to pull away from Curtis and realized I could probably take third place. But then I remembered there's no way I would've gotten here without Curtis' help, so I slowed at the summit to wait for him. A tie for third place was good enough for me and making friends on the road is more important than any time or place.
Final Stats:
Total Time: 12:32
Rolling time: 12:15Miles: 207
Total Climb: 18,481
Avg Heart Rate: 132
Average Speed: 17.0
Avg Power: 226 Watts
Place: tied for 3rd
1st and 2nd place time: 12:14
Speaking of friends, one of the most fun things in the day was seeing so many people I knew along the way. Barley Forsman, Peter Merrill and Kley Cardona all joined me at the 6:00 AM start. Along the way to the Morgan Territory Preserve, I saw Clyde Butt and Joan Deitchman <http://www.facebook.com/joan.grant> . Ken Emerson greeted me at the top of Morgan Territory, which is also where I saw Dave and Deb Hoag and Brian Chun. I passed Laura Hipp on Altamont. As I headed up Mines Rd, I saw many other club members heading the other direction on the Mt Hamilton challenge including Guy Neenan, Kryia Adams, Dennis Uyeno and Art Cruz. Paul Duren and Ken Emerson took care of me at pet the goat. Susan Forsman went barreling down the Calaveras wall on her fixie just as we were heading up and I saw Scott Guillaudeau as I was descending Calaveras (along with Guy Neenan, Kryia Adams and Art Cruz again). Ben Waters supported me in Sunol and I saw Steve Saeedi there as well after driving back to pick up Sheila at the end of the ride. The smiling faces and encouraging words I received from all of these people along the way inspired and energized me the entire ride.
Finally, a big thanks to a Quack cyclists and all the DMD volunteers. Nobody supports double centuries or makes them as much fun as you.