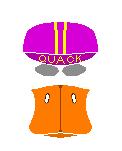 by Clyde Butt
Prep
After a 19 month absence from riding in California Triple Crown series events, I'm glad I chose to do this one. A long term period of unemployment forced me into survival mode – I simply could not justify or pay for the events. Praise God, I landed safely at Brocade last month (08/10/2009), and of course, one of my first actions was to check the calendar for all the doubles still going on this year!
My brother and his family live only 8 miles from the start. Having not seem them for a while, I made arrangements to stay with them and visit a while before the big ride day. Brother Doug and family just returned from a vacation to Sweden. Wow, the pictures were incredible, perfect weather for that part of the world. A must see for me, someday.
I arrived at the start location nearly an hour before check in time and to my surprise and delight Albert Kong showed up early, too. What a delightful guy. Always smiling and showing his enthusiasm for cycling. He was still recovering from doing the Last Chance 1200 in Colorado less than a week ago! What a stud! Later the next day at the awards breakfast, Albert was inducted into the California Triple Crown Hall of Fame after completing his 50th double century!
Instead of checking in and taking off for some much needed rest, I decided to stick around and help check in the riders. Albert took care of A-L last names while I managed the M-Z crowd. It was a lot of fun meeting everyone, checking their names off, and giving them their ride numbers and route slips. Volunteering is always a blast. You gott'a try it sometime, if you haven't done so.
I still managed to get to sleep and log about 6 hours down time. This has always been a challenge for me the day before a big event. I guess the excitement kind of takes over, even after several years of doing these types of rides.
The Event
I "slept in" and got up at about 3:30am, ate a big cranberry wheat muffin and banana I purchased at Trader Joes before leaving the bay area. Got to the start and saw my friend Kitty G. about to start. At 4:37am my wheels were rolling and I caught her about 30 mins down the road.
I left all my cold weather clothes behind, save my long fingered wool gloves. Even though it was mild at the start, I remember Mt. George from 2007 where I froze and couldn't feel my fingers or toes in the 36 degree temp on the descent!
Well, I didn't need 'em. In fact, I descended with arm warmers rolled down around my wrists. Conditions were perfect, about 58 degrees and the wind at the start had dissipated. What a pleasure to pace line with Kitty G., Karen Huber, Isabelle Drake, and a few other very experienced ultra-cyclists. In fact, after 4 hours on the course, I noticed that we were averaging 18.8 mph! At this rate, I thought, I'll be done in 13 hours or so.
Karen Huber; one of only 3 women that finished Alta Alpina in 2009, the #1 hardest double century on the circuit http://www.caltriplecrown.com/schedule.htm#altaalpina
My what a difference the heat can make. 6:16 mins ride time to complete the first 100 miles and over twice as long to get the second 100 done! By 11:30am, I was probably down about 1 liter of water. I have difficulty forcing myself to drink when the temp is cool like it was that morning. I think this set me up for what was about to take place…
As I came up to the pre-lunch water stop at mile 97, both of my hamstrings started to twitch…an all to familiar feeling for me. I knew that cramps were about to hit. No matter how much I hydrate and take endurolites, Tums, and eat bananas, something has happened over the last 3 years as I entered my 50s. Heat induced cramps? Age-related? Could my bodily systems be changing and not producing the right amount of elements needed to avoid these debilitating cramps? I don't know, but I'm sure going to try and find out.
For the next 6 hours, I suffered. Must have walked a total of 5 miles or more…on the bike a minute or two, then cramps would start, off the bike to walk them off…over and over again. I even got a little "short" with a rider that came by like so many others asking if there was anything I needed. I said, "NO, I'm all over it!" Needless to say, I was getting pretty agitated by the whole ordeal. After all the walking, the front of my feet, right around the ankle joint, were getting really sore.
But I was determined to not quit. Must of had something to do with the fact that my personal goal for the second half of the year was to finish this ride. A DNF would have put me in jeopardy of not getting paid some of the potential incentive bonus I'm eligible for at Brocade. What a great company, they are actually going to pay me for completing this ride!
I missed the turn to the lunch stop and continued on to climb Siegler Canyon and Cobb Mtn. Two pretty tuff climbs, especially for me in the condition I was in. I could not ride any of the inclines without cramping! All I could do was walk and coast on the flats and decline sections.
Thank God for SAG support. Ernesto came along at just the right time with cold drinks, and other supplies. I downed a coke, took some more endurolytes and started out again, only to find myself cramping again.
I sat down at a paved driveway to stretch out my hams and it seemed to help me ride a little farther before cramps set in again, so I kept stretching them out, even while on the bike, hoping I could overcome this problem before it overcame me.
About 5:30pm as I was climbing Pope Valley Rd., I had a terrible bout with cramps in my hamstrings and quads. I was hobbling to try and walk them off. At this point, I was seriously thinking that I was done, stick a fork in me, I may not be able to continue!
Oddly enough, as the sun got low in the sky and the temps began to fall, no more cramps, not a single bout for the rest of the ride. They must be heat induced…gott'a find out about this before I do another long ride.
I was so glad they were over, I got very pumped up, reinvigorated to make up for the slow, agonizing afternoon.
After Rest Stop #5 as twilight was coming on, I came across a lone cyclist, Nancy. She was doing her third double century and going for the triple crown jersey (only riders that complete 3 in a calendar year can buy it). I asked her if she would like me to buddy up with her during the night hours and she welcomed the idea. Always do this, folks. Two sets of lights on the road are always better than one.
As we rambled on down Hwy 28, we realized that it was even more important to stay together. It was Saturday night and we were in vacation camping country (Lake Berryessa). A few trucks with their trailer rigs loaded with jet skies came dangerously close to us. We know what they had been doing – how do you spell drinking & driving?
I wasn't as concerned about it as Nancy. I guess since I always pray before every ride that God will dispatch guardian angels to watch over us, I figure that when my time is up on this earth, nothing, no matter how cautious I am will keep me from entering into eternal life, but lets not rush it, either
At about 8pm Nancy and I came up to the next turn on our route slip. We were to make a left at the junction of hwy 28 and hwy 121. Hmm, Scott and his team of volunteers had done a good job of marking the course at every turn and I saw the Kx left arrow at just the right mileage on my computer, so we turned at the store. Little did we know that had we gone just another 30 yards up the road, we would have seen the real left turn to make!
7 miles and about 1500′ of elevation gain later, we came to the end of this wrong turn road. Some people were having a pool party with loud music at the top where there was a small community of homes and so I crashed the party. I must have looked like an alien walking up to them…miners light strapped to my helmet and reflective ankle bands and other reflective stuff showing. Chris, with his buff shaved chest full of tattoos informed us that we had to go all the way back to the store 7 miles away to get back on course!
Nancy was not exactly happy about this. In fact I distinctly remember hearing some expletives shouted into the air!
Now it didn't really rattle me. I was really enjoying the balmy temps and beauty of the outdoors. However, I did feel bad for Nancy. She wanted to get to the finish a lot earlier than when we would tonight. As we got back to the store, I called Scott and told him what happened (I tried to call him at the end of the road 7 miles away but there was no network coverage). He explained that the turn is further up the road where the stop sign is, and sure enough, as we talked, I looked up and saw what he was describing. It was kind of comforting to hear him say that he has made the same wrong turn, too! We climbed Steele Canyon all the way to the top. That little out and back amounted to 14 miles and about another 1.5 of riding!
Lesson learned; always preview the route slip before the ride. Had I realized that the left turn was a left to keep us on hwy 128, I would have been looking for markers to confirm we were on that hwy!
Hey, Scott, just the same, please place that road marker AFTER the turn onto Steel Canyon! Thanks!
Scott also told me during our phone call that 4 riders had just made the left turn onto hwy 28 about 5 minutes ago and there were still 3 riders behind us. He assured me that even if we got to the finish in Vacaville after midnight, we would not be "awarded" a DQ for missing the cut off time. Ah, that was nice to hear.
I delivered Nancy to the group of 4 where Scott was driving his van behind them to provide more light and security up the gentle hill climb we were on. As we got to the group, I decided to turn on the afterburners and cook it to the finish. After a quick stop at the last rest stop, I pumped it up and arrived at Pena Adobe Park, the finish, at 12:05am.
The second 100 miles took me 13:32 to complete! Totals for the day = 218.9 miles, 16:48 ride time, 2:20 in stop time (only 28 minutes off the bike in the first 100 miles). The 18.8 mph average from early morning fell to 13.0 for the day, and a fast 45.9 max speed on the descent of Mt. Howell.
Oh, about Howell Mtn. I got a little too cocky on that descent. Sometimes it happens when I'm with a group of riders (there were about 6 of us) coming down from the summit, I was feeling over confident in my descending skills and decided to cook it. Forgetting that a few hairpin turns were coming up, that was a really bad decision.
On one of those that banked to the right, I got very close to the center line just as a big ole pickup truck was coming up on the other side. He too, was hugging the center line. My life didn't flash before me, but when I saw him coming, I tried to ease off and not brake to hard and just maintain my line. As I nearly kissed his left fender, I could feel the wind rush by my left ear. We were only inches apart!
I heard several of the guys I was with, shout out the big WOE! Bashar, a Jordanian guy that I swear looks and talks more like an Italian pro climber, came up to me in the flats and gently put his hand on my shoulder and kindly encouraged me to be more careful. We road together with Victor for the next hour or so and had a great time climbing up the longest stretch of the course just before the lunch stop at mile 107. It really helps your mental attitude to climb the long hard ones with others. It gets you out of thinking about you, and the time and work seem to go by faster and easier.
The after ride meal put on by The Quackcyclists, was a great feast, catered by Pietro's #1 in Vacaville, we were treated to several different pastas with maranara and cream sauces, bread, salad, baked chicken, and ice cream, lots of ice cream (I had 3 chocolate covered vanilla bars
More later when I return with a post about the awards breakfast Sunday 9/20. What a great time it was. The stories of ordinary people doing extraordinary things will inspire you. Guaranteed!
The awards breakfast Sunday 09/20/2009:
After only 4 hours sleep, I jumped out of my sleeping bag and headed back to Pena Adobe Park to get in on the breakfast and ride stories of all the newly inducted hall of famers. Wow, we were treated to huevos rancheros! I had 3 big burritos of scrambled eggs, refried beans, sour cream, and guacamole, hmm, hmm, good!
11 riders were inducted into the California Triple Crown Hall of Fame this year. They had to complete 50 double centuries in order to be eligible. It was so delightful to see friends walk up to the podium and tell their stories. Albert Kong brought is two youngsters with him and Kitty G. accepted on behalf of Betty Berka who could not be there.
I sat next to Kitty for breakfast and the presentations and watched her autograph a book that one of the riders brought along. It was a book about the race across America (RAAM). There is a photo of Kitty from 1987 riding the course followed by her support crew vehicle. Her crew had mechanical troubles with the car along the way. It forced Kitty to abandon the ride somewhere in Utah. Sometimes it's not the rider that gets into trouble!
I got to see Lynn Katano receive a special recognition award from Chuck Bramwell (The Triple Crown Guy who started the ride series). Lynn is the premier volunteer and quintessential hostess for these events, giving of her time and resources to support the riders and all the teams of volunteers. I met Lynn and her photography guy in Arizona in April 2007 where we were riding PBP qualifying events. Chuck pointed out that Lynn has completed 91 double centuries! WOW, I didn't know that! Her award was quite unique. A rock from the Tom Simpson memorial monument near the summit of Mt. Ventoux http://en.wikipedia.org/wiki/Tom_Simpson
The most moving story of the morning came from a woman who was inducted into the hall of fame and had an impressive list of accomplishments to her credit, include numerous ironman competitions. Chuck mentioned that she hopes to compete again at that level one day. As she walked up to the podium to speak, I couldn't help but notice a limp in her stride. Saturday she completed her 50th double with a prosthetic foot. Several years ago she was struck by a motorist while on a training ride and the bones in her ankle were crushed beyond repair. Eventually, the only option left was to amputate. Not only is she back to riding again, she swims 3500 meters a week and has started running 45 to an hour. I have no doubt she will do another ironman.
I will always remember this double century and awards breakfast as a time of re-uniting with friends both on the bike and at rest stops where I saw people like Doug, Tim, and other familiar faces. There were new friendships made, old ones renewed. A truly great time, even with all the suffering I went through. Kind of like life condensed into one day on a bicycle.
A big heartfelt thank you to Scott Halversen and all the Quackcyclists and volunteers that made this a well supported event, including all the SAG support along the way – those guys have an uncanny ability to know when to come along side you and offer assistance. A special thank you to hall of famer Lee Mitchell for blasting old time rock and roll from his mini-van roof mounted speakers. At one point, I remember hearing some Elvis Presley as he was sweeping the course – instead of giving Lee the thumbs up sign that I was okay, I just raised my hand in the air and started snapping my fingers along to the tune. He knew I was okay and enjoying it! Oh, and I must not forget to thank the crew at rest stop #5. Those chili dogs and soup really hit the spot!
Blessings. Safe and fun riding to you all!
-cb
P.S. My ride number for the event was #36. One of those serendipitous things…when you had 3+6 it equals the number of double centuries I have completed now! (I am 9 for 10 – my only DNF was Mulholland in 2008).
DNF = Did Not Finish
__o
_-\<,_
(*)/ (*)
"""""""""""""""""""""""""""`
"Fortitudine Vincimus – By Endurance We Conquer"