by Marcia Morrison

Masters National Time Trial Championships: July 1, 2009
Weather:Â  mostly cloudy, mid to high 70's
Division:Â  Master's Women, 60-64
Average Speed:Â  20.6 mph
Time:Â  35:46
This year the race was in Taylorsville, KY.  Yes, it is a long way to go for a short time trial, but we make a 3 1/2 week trip out of it visiting friends and family in Colorado, Michigan and Wisconsin.  Besides that it motivates me to lose a bit of weight and gives me something to look forward to.
The course was a 20K out and back on a hilly, but non-technical course.  The course was different from last year's course.  It was hillier.  In fact the whole course was hills with false flats.  Last year's course was easier than the Beat the Clock course on Canada Rd. in Woodside and this year's course was more difficult than Canada Rd.  The climbs were steeper and longer.  Unlike last year this year's course was closed to traffic.  All start times were delayed 2 hours because there weren't enough course marshalls and the sheriff didn't get the road closed off in time, so now my new start time was 3:48:30.
Looking at the racers signed up I knew the best I could hope for was third place.  This was my 4th national time trial and every year my goal is to be at least in 5th place.  Fifth place puts you on the podium and you receive a medal.
I was seeded first, but I had the 2 strongest racers in front of me. (They moved up to the 60-64, but were still 59 at the time of the race.  It is called cycling age, whatever your age will be in 2009.)  My friend Martha, a multiple national and world champion, was 30 seconds in front of me.
The time trial started with a very short flat distance and went right into a 3% climb.  Previous racers said to take it easy on the first climb.  I was getting closer and closer to Martha.  I thought I must be going out too hard and Martha is playing it smart.  I found out later she stopped briefly to fix a rubbing brake.  I shouldn't have slowed down and should have kept my own pace.  However, my power was around 225 watts on the hill, so I probably was going too hard for me.  It was a straight course, so I saw her for the first half of the race.
Before the turn around I passed two riders, so I knew I was at least 6th.  Right before the turn around I saw a third rider and shortly after that I passed her, but she quickly came alongside me on a climb.  Then that was the last time I saw her, so I was excited to think I had met my goal of being in 5th place.
A few times on the way back I was in the wrong gear.  I stayed in the big chain ring on a hill that I thought was shorter.  Another time I thought I was in the big chain ring and I wasn't.  I attribute that to just being tired.  Al put a chain guide on my bike which increased my confidence for not dropping a chain.
After the turn around we had a strong headwind.  On the last downhill coming into the finish line I wanted to go as fast as possible, even though I was nervous about being in the drops and going fast.  I didn't reach my speed goal, but I think the headwind had something to do with that.
I felt good during the race.  The only uncomfortable feeling I had was a hot feeling.  I think I put on too much leg salsa and a Chinese linament as they both generate heat.  (Also, forgot my HRT which I didn't realize until I was in Michigan).
I gave my best effort and that's all I could hope for.  A good indicator of strong effort for me is that I had the dry heaves after the finish line.
When Al saw me he said I was in third place.  I was thrilled because I surpassed my goal of being in 5th place.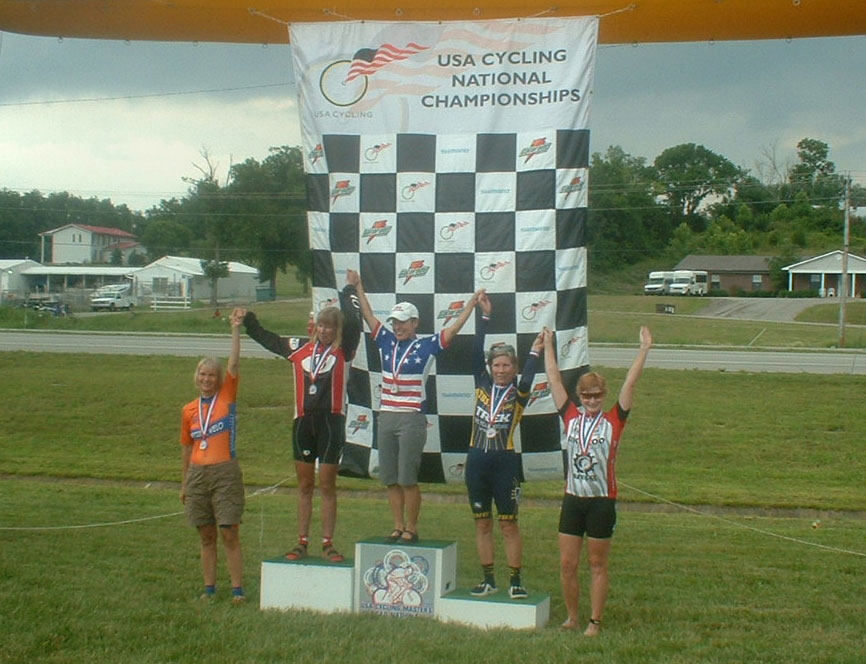 2009:Â  3rd
2008:Â  1st
2005:Â  5th
2004:Â  4th
It looks like one of these years I need to be in 2nd place in order to have a medal for each place.  It probably won't happen next year with all those young 60 and 61 year olds in 2010.