by Marie Becker
Towards the end of 2008 Pat Becker and I were sitting around trying to decide what our goals for riding would be in 2009.  Both of us were burned out from all the training for the Death Ride, so we decided not to do that this year, and picked the Summer Solstice up in Quincy in the Feather River Valley on June 27 instead.  Its scalable, so depending on how much riding/training we could get in would determine the length we would ride.  The longest version of this rivals the DR in difficulty, but you have the option of doing a 100k as well.  This sounded good to me, and I have friends who live up in Quincy we could stay with, so that was our "big" ride for the year.  Cathy Switzer decided to join us, and she brought her husband Larry up there too.
About a month before the ride I was talking to a friend here at the office, and turns out he has a cabin up in Quincy, right on the route of the ride.  What are the odds of that??  And in reviewing the route with Bruce, his comment that "you're  not riding up the hill past the Nelson Creek bridge are you? do you have good brakes on those bikes for the ride down??" it made me think that maybe I hadn't given enough consideration to the difficulty of this ride before I signed up.  Hmmm.  Too late by then, you go until you can't go any more and enjoy the ride!
So Pat, Cathy, Larry, and I all drove up to Quincy Friday and agreed to meet at the fairgrounds Saturday at 7:30.  If you've not been there, this is a beautiful place, small town in the mountains.  We rode over to the fairgrounds and had no trouble finding each other.  Small town and evidently not many riders participating.  There were literally no other riders there.  And I mean none!  My friends who live there told us after the ride there is a big music festival there that brings in thousands, but for the ride we think about 170 signed up.  Those doing the 200k likely started earlier, and we never saw them.  In fact we started counting both riders and cars as we rode because there just weren't but a handful the whole day of either!  We see more riders on our weekend rides down here in the valley than we saw that whole day.  Actually was kinda nice, but a little weird.  And we did have a clue about this the day before when Pat and I drove the route to see how steep it was and only saw one porta potty on the entire route.  We were worried about that… until we rode.  It really was sufficient, there was never a line!

The route is rollers through a beautiful meadow in the beginning, and then you climb a bit to the first rest stop and the one porta potty.  Never pass up an opportunity to pee or eat, so we chatted with the folks there, took a group picture while listening to Jimmy Buffet, and headed off to what is referred to as the Hogsback.  Now I don't really know what a hogs back looks like but it must be ugly!  Are they all humpbacks?  This was a 4 mile stretch with a grade of 14% for too much of it.  When 11% feels like a relief you know you're  climbing a mountain.  Both Pat and Cathy are stronger riders than me, so I didn't see their butts for long and they were gone.  I tried my best to stay in my "happy pace" with a lower heart rate so I wouldn't burn out before I got to La Porte (it is an out and back route).  But those double digit grades are tough!  I did feel good when I made it to the top, and was rewarded with beautiful scenery.  Snow on the tops of the mountains, fields of some big yellow flowers, maybe onions of some sort… it is called Onion Valley after all.  And more rollers all the way to La Porte.  The climbing just never really stopped going or returning.   The final long descent into La Porte was fun and fast. The road was wide and well paved, and with the sweeping turns and non-existent traffic you could easily reach speeds of 40+ mph. While exhilarating, in the back of my mind I knew I'd have to climb right back up after lunch, so I'd better enjoy this while it lasted.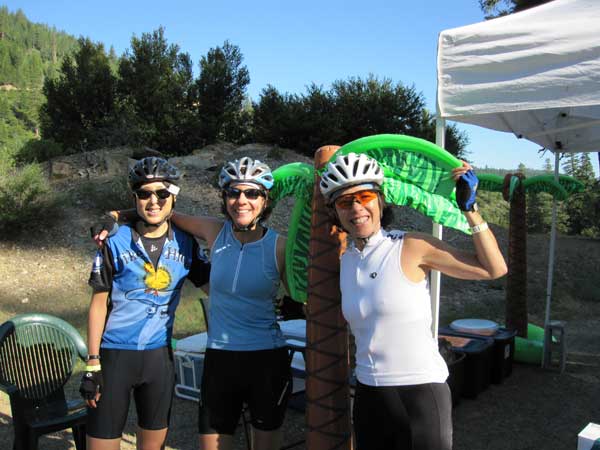 Lunch was at the fire house in La Porte, population of 26 .  [cid:image001.jpg@01CA00B3.01CEDA80] Even smaller than Quincy.  And they must be worried about those folks down in Quincy as evidenced by the Neighborhood Watch sign.  If there are only 26 of you in town I'd guess you pretty much always know what everyone else is doing… but those folks down in Quincy, well who knows about them.  I caught up with Pat and Cathy for a minute at lunch.  They were getting ready to head out as they planned on doing the full 100 miles (an extra 30 flat miles at the end of the 100k route) so we chatted for a minute and off they went.  I had a roast beef sandwich which I shared with a beautiful black lab who lived there, chatted with two young guys who rolled in (one from Stockton, one from SF), and off I went too.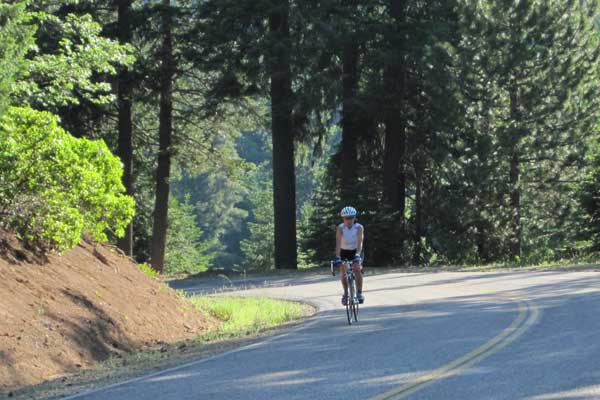 As you all know riding after lunch is a challenge sometimes, as your legs can think you're done.  Then you hit some of those stinkin hills you sailed down, and you now have to climb back up.  That one long sweeping hill, in the full sun and 10% grade, it was just ugly.  One of those times where you just stare at the asphalt as your front tire rolls over it and your brain says over and over, just keep pedaling!  I rolled up on Stockton who was walking his bike up.  At lunch I learned this was his first century ride, that some dingleberry told him to do this ride.  Poor guy, there are no hills to train on in Stockton.  But he intended to finish!  So I continued to just pedal, pedal, pedal and I got to the top of the thing.  I stopped there for a minute to contemplate life, and why I think doing things like this is a good idea.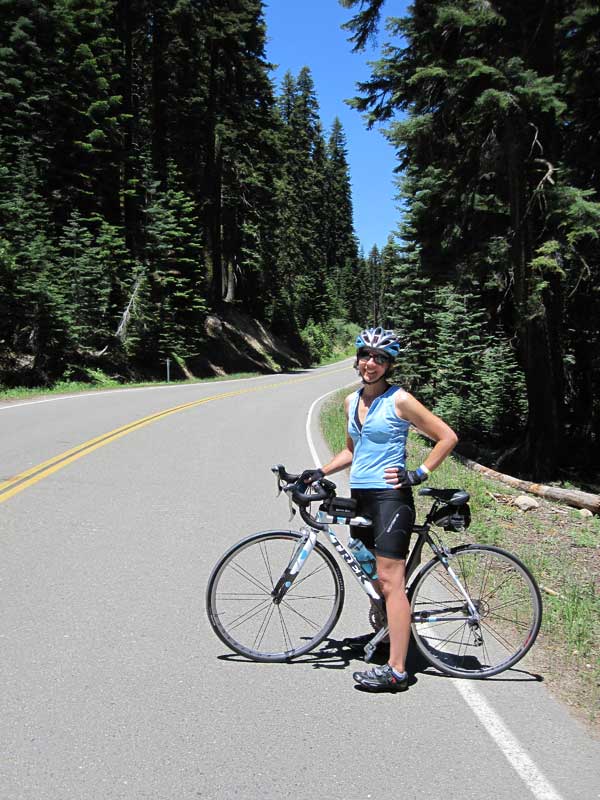 I pulled out my camera and took a few pictures, then tried to take one of myself.  Hmmm.  Lots of people seem to do this and they don't look like dorks, I need to practice this!  Stockton showed up about then and volunteered to take one for me.  I must have looked more like a dork than I thought!  Then we rolled off together, and came up on San Francisco.  We hit the top of the Hogsback and the boys went sailing down.  Lots of switchbacks and very steep, but you get down a whole lot faster than you go up!  Back to the one rest stop, made use of the one porta potty again (really one of the cleanest ones ever) then down into Quincy.  As I rolled through the meadow at the bottom who do I find but both Pat and Cathy hanging out under a tree.  Since all the hard climbing was in the metric they decided that doing the flat 30 just for the sake of saying you did a 100 miles seemed silly and they waited for me.  As Cathy said, we start together and we finish together, which we did!  Even Stockton finished, rubber legs and all.
After a quick shower we went back for our BBQ dinner.  Again, no line and no steam table.  A BBQ wagon, you told them what you wanted and they made your plate.  Some of the best BBQ chicken ever, then we headed over to Cathy and Larry's and we finished off all the wine they brought.  A hard ride, but a great day with good friends in a beautiful place!!
BTW… Cathy's ride notes consist of hanging out under the tree with Pat and having some wine at the end.  So whether it was a "hard ride" was dependent on the rider :-)!