by Deborah Hoag
Climb to Kaiser is sponsor by the Fresno Cycling Club, which consist of 13,500′ of climbing and 155 miles with temperatures above 100 degrees.  The ride begins and ends at Alla Sierra Middle School in Clovis, Ca.  The first 23 miles is pretty flat. What makes Kaiser hard is at mile 23, the 13,500′ of climbing starts and ends at mile 98. I have provided climb statistics below provide by Fresno Cycling Club. The Big Creek climb is the worst climb with the steepest grade at 20% in areas, plus a rider is out in the sun throughout the climb.
| | | | | | | | |
| --- | --- | --- | --- | --- | --- | --- | --- |
| Climb | Start Mile | End Mile | Climb Distance | Average Grade | Worst 1/2 Mile Grade | Steepest Grade | Elevation Gains |
| Wildcat Grade | 23.4 | 27.4 | 4 | 5% | 12% | 16% | 900′ |
| Burrough Grade | 30.6 | 33.1 | 2.5 | 5% | 7% | 10% | 900′ |
| Tollhouse Grade | 39.1 | 46.6 | 8 | 7% | 13% | 19% | 2700′ |
| Pine Ridge Grade | 47 | 50.6 | 4 | 6% | 9% | 11% | 1400′ |
| Big Creek Grade | 63 | 67.5 | 4.5 | 10% | 15% | 20% | 2000′ |
| Kaiser Pass | 72.8 | 80.8 | 8 | 7% | 12% | 18% | 2300′ |
| Tamarack Ridge | 88.6 | 97.8 | 9 | 5% | 7% | 8% | 1300′ |
I started doing Climb to Kaiser in 2000 and completed it my 7th time this year. In 2000, Pam Downs had a room and asked me to share it with her. So, I signed up and paid for the jersey. Don Axtell told me I had to do the whole ride to earn the jersey. I had not rode more than 100 miles. What a surprise I had! I got sucked in and did not know what I got myself into. Well, the first year I added extra 13 miles, because I missed a turn.  I also got hooked on the ride and did it five years in a row. By 2003, I started focusing on double centuries, so since 2004 I have only completed Kaiser in 2007 and 2009. The reason behind doing Kaiser this year is training for the Stage Race (the 3 hardest double centuries).  The hard part about the stage race this year is there is 2 ½ months of a break between second double (May 10),  and the third double (August 1), which creates it hard to stay in shape and peak at the right time.
Climb to Kaiser had a mass start at 5:30A with 243 riders with temperatures' in the low 80's. Fresno reached 105 degrees. Usually at mile 50, it cools off when the ride starts leaving the valley and starts the climbing; however, this would not be the case for 2009. It was hot on top of Kaiser. The only clothing required for the day was a jersey and shorts.  My goal for the ride was to focus on spinning and reducing rest stop times. The first rest stop after Wildcat Grade, my time off the bike was less than one minute. The second rest stop after Burrough Grade was four minutes. However, before the third rest stop Toolhouse, my calves started to cramp. So, at the third rest stop, Shaver Lake, I took a 15 minute break. At the Shaver Lake rest stop this is the turning around point for riders completing 100 miles. And every time, I want to turn around too. But, for some reason, I never do. Then on to Pine Ridge Grade to the fourth rest stop, before Big Creek climb, as I turn on to HWY 168, there is a big pile of broken glass on the road, and it crosses my mind that if I run over the glass, I do not have to complete the ride.  It is very hot, so before the Big Creek climb I poured water over my head and started the worst climb of the day out in the sun. Half way up Big Creek there is a stream that I always stop at and pour water over my head. Something I learned from Donny in 2001. It has always paid off, because I past riders walking this part of the ride. Then it is on to the fifth rest stop, lunch, however, with the heat I eat very little and moved on after a 10 minute lunch for the final hard climb up Kaiser Pass out in the open sun again. Kaiser Pass steepest grade is 18%, but after climbing Big Creek with the steepest grade of 20%, it seems easy.  When reaching the top of each climb the volunteers are encouraging each ride on.
This year on top of Kaiser, there was a flag waver, plus volunteries yelling. In 2007, they were sounded off truck horns.  I stayed long enough to get a picture. On the Kaiser Pass descend about quarter mile down; there is twenty-five feet of gravel with potholes averaging 8 to 12 inches. The top mile of Kaiser Pass is very narrow and it is hard for two cars pass each other (up and down).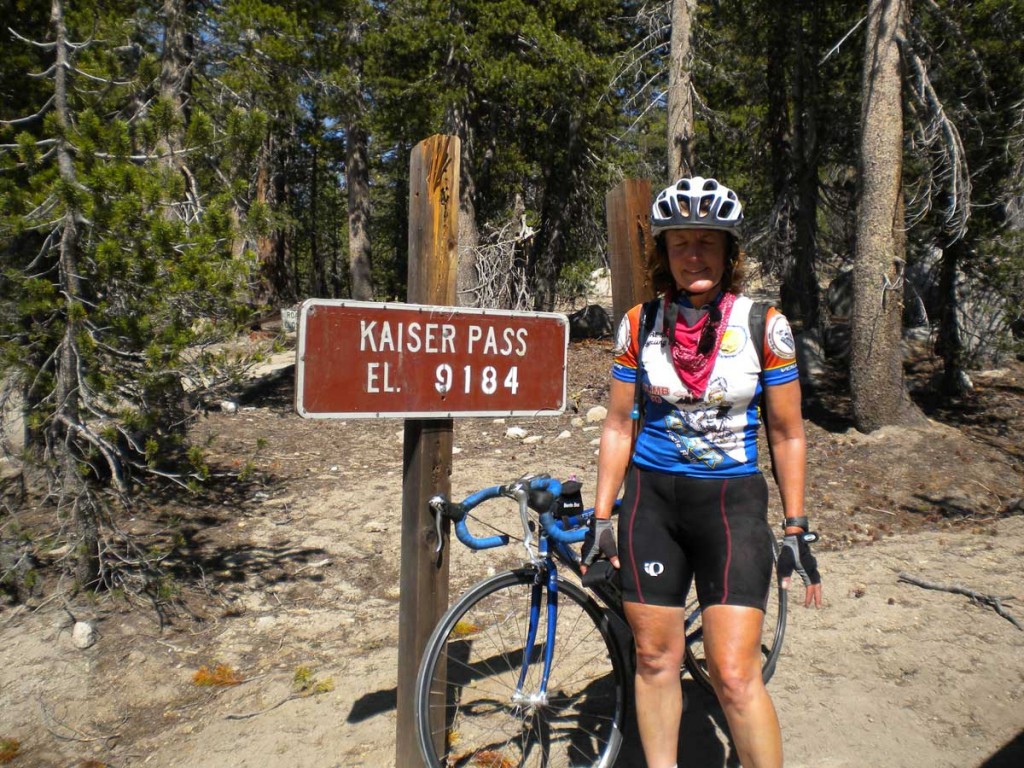 I started the descending and realized there was car behind me and forgotten about the gravel and potholes in the shade. I hit a deep pothole about 12″ deep with my front wheel head on, at this point I thought I was going down. I held on and kept my front wheel straight. The front wheel popped out and then my rear wheel went in. At this point, I knew I was fine. Thanks to the mountain bike riding  I did with Richard Holterman paid off. Then it was on to a rippin' Kaiser Pass descends. Final one easier climb and then an even better rippin' descend to Shaver Lake rest stop (second to last rest stop).  The climbing is basically over; the rest of ride is a drop into Fresno's heat (105 degrees). It is like opening up a hot oven and stuck your head in to it. The dry heat in throat is felt for the next 35 miles.
Why I keep riding Climb to Kaiser the Fresno Cycling club provide excellent support and the locate people ring their cow bells.