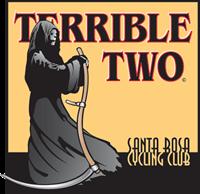 by Sheila Stevens
In 2007, Russ and I were riding our first organized double century (Davis) on the tandem when we met another tandem couple wearing matching Terrible Two jerseys.  Russ commented that it would be really cool if we could get matching TT jerseys ourselves.  It was the most ridiculous thing I had ever heard.  But then again, here we were, trying to do 3 doubles in a year in order to get Triple Crown jerseys after seeing a tandem couple pass us with them on the 2006 Death Ride.  Still, 200 miles with 16,000 feet of climbing and aggressive time cut-offs – it was just crazy talk.  Little did I know that 2 years later he would have convinced me to give it a whirl.
We arrived at the ride start at 4:50 am for the scheduled 5:30 mass start.  The parking lot was already bustling with activity.  I went to check in while Russ got the bike off the car.
We saw other ACTC folks – Paul Duren, Paul Vlasveld, Ehud Yuhjtman and Ken Holloway, and kept our eyes peeled for other folks we thought were riding from the club.  Maybe it was just me, but the atmosphere of the ride start was an extreme combination of excitement, anticipation and palpable dread of the day in front of us.
We knew from the website that there were at least four tandems registered for the ride. There is such an instant, unexplainable camaraderie among tandems that were we quickly comparing notes and rigs with the Albers, Taylors, and Seely/Radtke teams.  The Seely/Radtke team is the only tandem attempting the Stage Race this year.  Guess they threw in Terrible Two just for kicks. Later we would meet the Clark tandem team at the finish.  Turns out, 4 out of the 5 tandems finished, which is a testament to the favorable conditions in store for us. Temperatures are typically 100+ for much of the ride, but this year temperatures maybe maxed out in the high 80's.
At 5:30 the mass of ~230 riders was led out by a four wheeled moto-pacer.  Before the ride, I was really nervous about this portion of the ride.  Based on Russ' previous TTs, I knew it was imperative to keep up with the front of the pack so as to not miss any of the lights tripped by the pacer.  There are 20 stoplights to be navigated going through Santa Rosa, which could eat up a lot of time.  I am also really uncomfortable in packs, especially when I do not know the riders around me.  It might have something to do with the fact that as a stoker, I have no ability to steer or brake.  My pathetic little bell is the only way I can influence the environment around me.
It was a fairly quick pace to and through Santa Rosa.  I was surprised to see several groups of people along the route (some in bathrobes with large mugs of coffee) ringing bells and cheering us on.  There was even a life sized Han Solo cut-out in one group.  The pack spread out such that we ultimately lost sight of the front riders, yet we only got held up by a few of the traffic lights.  Turns out the pack riding was fine.  I sound a bit like Rainman, but I must say, Russ is a very good driver, I mean captain.
Now, many of the people who ride with us have heard about Russ' spreadsheets.  I often make fun of them, but for us they are an invaluable tool.  He calculates and tracks our power outputs and progress during training and then figures out how long it will take us to finish certain rides.  They are amazingly geeky, and accurate.  Over Memorial Day weekend we led the "Not so Terrible Two Days" rides for ACTC which included back to back centuries that covered the entire course over two days.  Based on our times, we knew we would need to pick up the pace in order to leave lunch at the 110 mile mark by the 1:45pm cut-off.  However, a few weeks of training later, our speed and power improved such that Russ was predicting we could leave lunch by 1:35 and finish by 9:15 pm.  The "I did it!" t-shirt given to all who finish before 10pm was within reach!  An unspoken goal was to finish before dark (~9:00pm).
Back to the ride.  After about 25 miles, we started the first climb up Trinity Grade.  I saw Man-Fai Tam, and a short distance up the hill we saw Laura Hipp.  Powered by our now traditional chocolate milk filled starting bottles, we reached the top of Trinity about 7 minutes ahead of Russ' prediction.  We breathed a sigh of relief in that it looked like our legs did indeed show up for the ride.  Shortly after starting the descent, we passed Paul Vlasveld.  Paul then passed us on the short climb up Oakville Grade, but we hooked up again for the long flat of Silverado Trail.
We picked up quite a train behind us on Silverado Trail.  Drafting a tandem for 16 miles is an opportunity not too many single bikes can pass up.  We made a conscious effort to not "Silverado Trail" ourselves. That is an expression Russ uses to describe blowing yourself up by going way too hard, on a road that is just too much fun, doing pacelines way too fast, much  too early in the ride.  He kept his heart rate in check and we rolled into the Calistoga rest stop (mile 55) at 8:40 am.
Another strategy to meet the cut-offs was to keep our rest stops really quick.  We refilled water, grabbed food and I even got to pee before rolling out a mere 3 minutes later, 15 minutes ahead of schedule.  We lost most of our paceline buddies at the stop, but we found new folks to chat with along the next stretch. As we approached the entrance to the Old Faithfulgeyser, we were treated to an eruption.  On we rode toward Geysers Road – the highest climb of the day.
I don't really remember anything remarkable about the climb itself.  Long. Hard. Steep. Typical.  Part way up the climb we passed the Albers tandem parked next to a SAG – likely some sort of mechanical.  We got passed by a lot of single bikes on this climb, but nearly every one of them had something incredibly positive to say about us doing this ride on the tandem.  It was completely different from the Death Ride where I got at least 25 comments of "Hey, she's not pedaling" by the time we reached the third pass.  I guess Terrible Two riders get it.  This is such a hard ride that if you are out there at all, you have got some serious toughness that deserves respect.  By the way, "She's not pedaling" is never funny.  Ever.
We saw the Taylor tandem at the rest stop at the top.  After a quick four minutes to get water, food and let Russ pee, we took off again.  The back side of Geysers is not a smooth road and there were several short gravel sections.  There was a LOT of flat tire carnage, but luckily none for us.
Before the ride we debated about ways to shave weight off of the bike.  Gone were the rear rack, trunk, some tools, and the front bag/rack.  We kept a smaller tool bag, super tubes in both wheels, spare tire and the kickstand.  It is so nice to not have to search for a spot to lean or put your bike down at the rest stops.  We must have gotten 5-6 comments during the day about how unusual it was to have a kickstand on the bike.  One guy even asked us to pose so he could take a "Look ma, no hands" picture of it.  Wow, if only people knew that this kickstand was actually our second.  The original one failed and broke off after ~17,000 miles.
We passed the Taylor tandem and lots of single bikes on the descent.  We saw Ken Holloway fixing a flat a few miles short of the lunch stop.  We arrived at lunch 12:28pm.  Our leisurely 12 minute stop allowed the Taylors to sneak out ahead of us, never to be caught again.  We left the lunch stop 56 minutes ahead of Russ' prediction.
Next up was Skaggs Spring Road – a 38 mile jaunt to the coast with 4800 feet of climbing.  Shortly after we started the first climb, Ken Holloway passed us.  We leapfrogged a bit as we would pass him on the all too short mini-descents and he would pass us as soon as the road pitched up.  He ultimately also got out in front never to be seen again.  We were regularly downing salt packets to keep cramping at bay.
At mile 116 I felt a sharp smack on my face and yelped as a bee, for the third time in two years, got caught between me and my helmet.  In response to my noises, Russ asked if I was ok.  I replied, "Yeah, but a bee got me right on my temporal mandibular joint!"  His response of "Where the hell is that?!?!?" made me laugh and reminded me that we really do speak different languages sometimes. (BTW, it is the part of your jaw just in front of your ear).
There were great water stops at both high peaks on Skaggs where I kept getting told "You are the third woman to arrive".  We took a quick break at the rest stop at Camp Gualala so Russ could rub his feet before the dreaded "wall".
The wall climbs about 900 ft in less than 1.2 miles.  It is brutal, and not nearly short enough.  We made it up without stopping which was a major mental victory for me.  After that it is just one more small bump (that seemed endlessly long) until we descended among the fern covered hills (I bet a lot or riders never noticed the ferns) and emerged onto the coast at Stewart's Point. We left Stewart's Point at 4:00pm – 1 hour and 11 minutes ahead of schedule.
At the coast we were treated to beautiful clear skies and a strong tailwind.  The next 16 miles sped by as we let the tailwind do some of the work.  We were on our own for most of this stretch, but eventually we caught up to a rider who had broken a spoke earlier on Skagg's and was now riding without front brakes. That did not sound fun given that 16000 feet of climbing also translates to 16000 feet of descending.
We arrived at the Fort Ross rest stop (mile 163), where luckily the other rider was able to borrow a new front wheel.  Have I mentioned that the support on this ride is fantastic?  Han Solo also must have taken a short cut as he was now present next to the large pots of hot soup.
I was really nervous about the impending Fort Ross climb. Russ assured me it would be ok, and he told me to just plan on taking a break somewhere in the middle of the hill.  We left the rest stop at 5:00pm.  At 5:05, I got that break we talked about, but not exactly as planned. We tried to shift into our lowest gear and dropped the chain. Despite immediately clipping out, the chain was royally jammed between the cassette and spokes.  It somehow worked its way below the cassette pin that prevents that from happening. We couldn't get the chain back out, remove the wheel or even access the master link.  We finally broke out the chain tool and got everything back in order. We were rolling again by 5:15.  Not too bad given that for a few minutes we were really wondering how the heck we were going to fix it.
Russ predicted the climb would take us 45 minutes.  We hit the summit at 5:45 – we matched his predict even with a 10 minute mechanical!!  After the summit, we were descending and knew there was just one more hard climb to come – the second summit of Fort Ross.  I was distracting and powering myself up Fort Ross with a 300 calorie King Size Salted Nut Roll I had been packing as my special stash of magic food.  The climb just kept going and going, but we finally hit the summit.  At this point it started to dawn on me that we were really going to do this!  I asked Russ to be cautious on the descent.  His response was, "Are you crazy, there is no way I am going risk blowing this now!!!"  Russ started to cramp again once we were back on the flats, but we were able to salt him up and kept rolling our way to the last rest stop in Monte Rio.
By the time you reach Monte Rio, you are pretty sure you are going to make it, but you are still pretty darn exhausted.  Russ and I split up. I decided to put the lights on just for added visibility and refilled the bottles. Russ again needed to give his feet a break.  I didn't see any of this, but Russ said he was a total slob trying to rub his feet with one hand while simultaneously inhaling an enormous handful of BBQ potato chips with the other. Russ later told me he was trying NOT to eat the chips with the same hands he was rubbing his feet with, but was not sure he was entirely successful.  The volunteers commented on how good everyone looked.  That was another testament to the excellent conditions.  Normally, everyone looks a bit like death warmed over by the time they reach Monte Rio.
We left at the rest stop at 7:00pm with just 17 miles to go.  Some easy math said we could flirt with an 8:00 pm finish if we pushed. We took off and picked up a rider named Jack on our wheel.  We hauled the entire way and arrived at 7:54pm.  The finish line had people lined up to cheer every individual finisher.  The giant digital time clock read 14:24 total. Our computers indicated that we spent 13:26 rolling.  The weather conditions allowed us to blow Russ' conservative predictions out of the water.
The first order of business was to get that t-shirt and buy a jersey.  I recognized the volunteer at the jersey table from out on the course.  She said she started at 4:00am directing cars, was planning to stay until after the last riders finished and would be back to help clean up on Sunday.  She said, "My whole weekend is Terrible Two".  Or maybe she said, "My whole weekend is terrible, too".
As we collapsed into bed that night at the nearby Good Nite Inn, I asked Russ if he was glad we did it.  He quickly responded, "Yes, absolutely".  We've been married, and riding tandem, long enough to know not to ask the question "Would you do it again?" until well after New Year's.