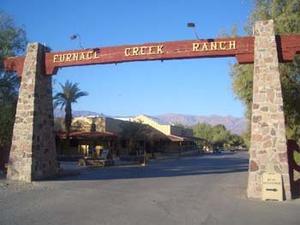 by Franz Kelsch
Death Valley received its name in 1849 during the California Gold Rush. It was called Death Valley by prospectors and others who sought to cross the valley on their way to the gold fields. I realized how much has changed since then until today when numerous cyclists cross death valley each year.
Late last year I received an email that they had just opened registration for the Death Valley "Spring" Double and right after that I got a call from Gary F. telling me he was signing up. In an impulsive moment I went on their website and signed up, just before they reached their 300 rider limit in the first hour. Then I was starting to wonder how I was going to get ready. I was going to be traveling a lot in November and December and that left only two months to get in shape. It was kind of like cramming for a final, except the body can only develop so fast. So during the first two months of 2009 I biked more miles than I ever had so early in the year. Although I did not feel like I was fully prepared, I was close to the training program I had laid out for myself for the first two doubles this year.
On Friday Gary, Louise and myself carpooled down to Furnace Creek. After a 500 mile, 9 hour drive, we finally arrived at the Furnace Creek Ranch Lodge where Gary and I were sharing a room. As often happens on these type of events, I did not sleep that well. I woke up at 1:30 am and not quite sure if I ever went back to sleep. Gary and I decided to try to get in with the first wave of riders so we were up early and to the start line by 5:45. But they had 50 people already there and they held us back to start 10 minutes later with the second group. I was not too worried about that but I knew that it meant Gary would need to bridge the 10 minute gap somehow to catch the fastest riders ahead.
It was just getting light as we started off at 6:10. Riding in the desert at sunrise is something so beautiful that it is impossible to explain and needs to be experienced. In the foreground was the vast expanse of Death Valley and looming far in the distant was the Sierra Mountains, with snow caps on Mt. Whitney.
In our group of 50 I saw a couple on a tandem, but not just any tandem. It was a very high priced racing tandem and they were both wearing Everest Challenge Jerseys. That is the State Climbing Championship I participated in last year so I figured I could draft behind them. But they turned out to be not fast enough and I eventually went past them. Not too long after that we formed a pace line of about 9 riders and worked together for about 40 miles when we stopped for water and food.
I made a quick stop and decided to go ahead without the group since we would be climbing up Jubilee within 7 miles. From that point on it was mostly solo riding for me.
This double is two parts, the first part is out to Shoshone and back to Furnace Creek. This is stage 4 on the Furnace Creek 508, but both times I was the "A" rider so I had not cycled on these roads. So instead of being sleepy eyed in the support van watching Paul V. bike in the middle of the night, I had the chance to ride in the daylight. It was wonderful weather, not too hot, not too cold, not too sunny and not too cloudy. I could not have asked for better cycling weather.
When I got to the base of Jubilee, I noticed that I had already "climbed" over 1,500 feet, which showed how many rollers we went over. Jubilee Summit was at 1,290 feet and then after a short descent it was a very long climb up Salsberry. I passed several riders during the climb up to 3,300 feet at the summit. I guess these were all riders in the group that had started 10 minutes before us. I could see a tandem ahead and was thinking if I could catch it before the summit I could follow it down the other side. I was able to make a connection just before we hit the crest and attempted to keep in their slipstream as we zoomed down the hill. I finally found myself pedaling as fast as I could and watched them slowly slip away from me even though they were "coasting". "Wait a minute" I thought, I still had a long way to go so I gave up the chase.
After we leveled out I found myself in a stiff headwind, bringing my speed down to 11 mph. I was starting to worry because the winds last year during this event had caused a high DNF rate. But the wind lasted for only about 10 miles and although it seemed to always be a head wind for the rest of the ride, they were not that strong. I made a quick stop at Shoshone and headed back. On the climb back up Salsberry, I saw the same tandem again but found it easy this time to catch them. Again I tried to keep in their slipstream down the very long descent but once again I finally gave up.
It is breathtaking to descend from over 3,315 feet down to below sea level. Once I was back down to the valley floor, it was a short ride back to the rest stop to get more water. From there I had about 30 miles to reach Badwater, where there was a lunch stop. That seemed like the longest 30 miles. I was on the verge of bonking and was out of water as I pulled into Badwater. Badwater is a basin in Death Valley and is the lowest point in the US with an elevation of 282 feet below sea level. It was also for me the lowest point in the ride.
I realized I needed a break so sat there for nearly 19 minutes enjoying a sandwich, a coke, and a V-8. I was now feeling much better and headed off. I grouped with two other riders, one was wearing a Furnace Creek 508 jersey from last year. I had been with him early in the day with the small pace line we had formed. I was chatting with him and he indicated that he had only been on the bike 4 times since last October's Furnace Creek 508. "Wow", I thought, how could he do that. He said he had been swimming and running. I asked him if by chance he had run the Badwater Ultra marathon, put on by the same group putting on this event and the 508. "Yes", he said, "4 times". This is the hardest running race I know of, covering 135 miles non-stop from Death Valley to Mt. Whitney. He said he had finished 4 times and had completed both the Badwater Ultra Marathon and FC 508 solo in the same year (his totem is Desert Duck). He is only the second person I met who had completed both events and the first to do it multiple times.
I reached Furnace Creek for another stop, I saw Gary's coach there who had already finished. That meant he had finished the last 50 miles out to Stovepipe Wells and back before I even started out. Yikes, I guess I had better get going. So after a 10 minutes stop I headed on, riding solo once again.
I was now riding on the same road I had ridden twice during the FC 508, except in reverse. What surprised me was that this road had a lot of rollers. When doing the 508 I always thought this section was flat. Doing it in the dark made it hard to see the ups and downs and I had thought the difference in effort required was due to the shifting winds. But now I was measuring as much as a 300 ft. change in elevation through the rollers. About 5 miles from the turn around one fellow did pass me so I jumped on his wheel for awhile. Then I felt like I could pull and went around him. A mile or so later I glanced back and he had fallen way off the back so I just went ahead by myself. I finally reached Stovepipe Wells, which is right at sea level.
At the turn around point they offered me a cup of noodles. Hum, that sounded good so I sat down and enjoyed it since I wanted to make sure I had enough energy to finish. After a 13 minute rest, I decided to bike to the finish. It was getting late in the day so I decided to turn on my lights before I headed back to Furnace Creek for the last 25 miles of the ride. One fellow joined me but he had a simple CAT-eye light so he enjoyed following me with my bright light. I was thinking he liked following me a bit too much because he never took a pull. Oh well, at least in the dark it was safer to have two riders together.
I finally pulled into Furnace Creek at 7:30 pm, for a total time of 13:20. Gary, who had finished two hours earlier, was there to meet me. I was happy I was done. Not long after I finished the fellow with the totem Desert Duck pulled in. I asked him if he was going to do the Badwater Ultramarathon and FC 508 again this year. He said he was taking it off because he was going to do a triple Iron Man instead. "Yikes", I said, "what is a triple Iron Man?" He said it was "7.5 mile swim, then 336 mile bike and 78 mile run." But he added, "I have 60 hours to finish". I started to feel like a wimp for having a hard time finishing only 200 miles on the bike.
After eating some more food, I headed to the room to take a shower and then went back out to the front to wait for Louise. I slept well that night. Checking my data later I found I had averaged 16 mph over the course of 197 miles and 9,300 feet of climbing. My total stopping time was about 1 hour. Although I had not pushed myself as hard as I had on some other doubles, overall I was happy with how I did. Maybe I should be thinking about doing a triple Iron-man, NOT!