by Franz Kelsch
I didn't try to get into the Death Ride this year but was planning to do the Climb to Kaiser. With the high fuel costs and other things I lost interest in doing CTK and decided to try to do something equivalent with a club ride. There was a long distance training ride posted for Saturday, June 28th, led by Dave Zajac, that looked just right. ACTC is special amongst bike clubs because of the weekly rides that are often over 100 miles with a lot of climbing.
The group met at the Park N Ride in Los Gatos for a 7:30 start.  Brian C. grabbed a quick picture before we departed.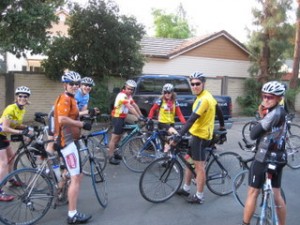 I moved out to the front for the gradual ascent along highway 9 from the parking lot. Suddenly David H. went whizzing by. So fast so soon? I pushed on and was able to catch him as the road leveled off and where his pace also leveled off. But that was enough to leave the rest of the riders behind so the two of us rode together until Russ S. met up with us on Foothill. The three of us climbed Page Mill for our first climb of the day. After reaching the top of Page Mill, David went his own way so Russ and I rode together for the rest of the ride.
When my family lived in Japan we noticed that they never sold things like tableware in groups of four but always in groups of five. We later learned why. In Japan the numbers 4 and 9 are considered unlucky. The number four is pronounced "Shi". The word for death in Japanese is "Shin", which sounds similar. So the thought came to me if I wanted something like the Death Ride we needed to do four of something and what better thing to do than climb four billy goats that had a rating of "6", the most difficult rating. Page Mill is only rated a "5" so that would not count towards this goal.
Our first two rating "6" climbs were on the route, Jamison Creek followed by Alba. Jamison Creek was no problem but when we hit Alba that was a different story. I had brought my bike with a double crank and the climb up Alba with a 39/27 was killing me (appropriate for our taste of death ride). After descending back down Jamison Creek, we did the climb up China Grade. That gave us three "6's". At the beginning of the ride I had thought about doing Bolhman at the end to get the climbing on the ride that would be similar to doing the Death Ride. But the climb up  Alba gave me second thoughts. I have climbed Bolhman before with my double but that was when I was  a bit more fresh. Russ and I discussed it and each was hoping the other would bring some reason into the decision. So we took the easy way out (if there is such a thing on such a ride) and climbed Sanborn for our fourth "6" rated billy goat. I think that is the first time for me to do four "6's" on one ride. I am sure others in the club may have done even more.
I ended up with 113 miles and 12,500 feet of climbing. The Death Ride is about 12 miles longer and another 2,000 feet of climbing so I would call this a taste of death ride. No drive to Markleville was needed and no entry fee required. Where else, other than ACTC, can you do such a club ride?
This shows the profile for the ride and the 6 billy goats we did.  Click to enlarge.