Franz
| May 29, 2011 5:11 pm
by Bryan Shaner and Ray Persico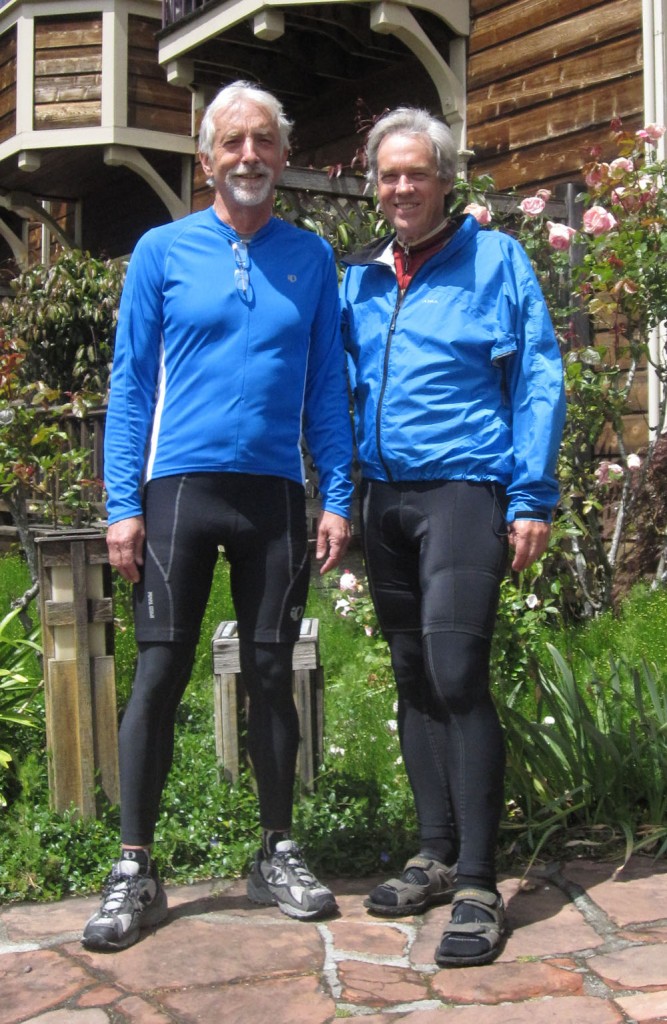 Ray and I had been trying to find a Bicycle Adventure Club (BAC) ride for some time.  First the Southern Utah Tour was full then the Sicily trip fell apart, so I was pretty excited when he told me about the California Wine Country and Northern Coast Tour.  And the ride leaders were our own Bill and Joyce Keckler.  BAC is an all volunteer organization that is not for profit.  So not only was the price reasonable, but we're going to get a refund of several hundred dollars since Bill and Joyce kept us under budget.  Not only did they keep us under budget, but they provided an excellent riding experience.  We had very complete route information (including a few alternates for additional climbing and miles), wonderful accommodations, and a great happy hour every afternoon.  They did a good job of arranging the weather also.  Our one rainy day was spent at the Lodge in Olema which had a pool table in the game room!
Our first two nights were in Windsor, and the first days ride was a 40-70 mile loop to get all the kinks worked out.  Fortunately for me, it was also the day of the Wine Country Century, because I had a very important kink that needed to be worked out.  My rear derailleur cable broke at about mile 20.  Ray suggested we try the Century rest stop, and sure enough, $10 and 10 minutes later, I was back on the road.  That first day of 71 miles turned out to be our longest, and I have to admit, after a generous wine tasting and a hand full of chocolates, we enjoyed passing dozens if not hundreds of weary Century riders that last 20 miles.
Day three was from Windsor to Calistoga.  Ray and I were feeling pretty cocky having gone exploring off the route quite successfully the previous day.  But our alternative route to see new country had lots of traffic, and we were glad when we finally rejoined the suggested route.  We arrived in Calistoga pretty early so decided to do some extra riding.  Our original plan was to get up into the hills and do some more climbing, but after a few miles on the El Dorado Trail, we decided to restrict our miles and keep them level.  We saw a great photo exhibit at Mums and then had lunch in St. Helena.  The shared $20 wine tasting at Clos Pegase was good, but then some of our free happy hour wines were also.
The next day we headed off to Cloverdale, and the route included "The Geysers" which is one of the prettiest routes you'll ever ride.  The climb was moderately difficult and the wide open views were spectacular.  Ray and I missed a turn and got to see where Geysers got its name.  There's a plant tucked back in the mountains that converts the heat and steam from geysers into electricity.  They didn't seem too interested in inviting us in for a tour, so we retraced ours steps and bumped down a road almost as bad as Eureka Canyon.  We felt a few drops of rain as we arrived in Cloverdale, and some of our fellow travelers got some hail.
We rode to Mendocino the next day and realized how beautiful our weather had been.  We were greeted by clouds and wind on the coast.  So the next day on our way to Ft. Bragg, I purchased some tights – well really leg warmers.  But they were wonderful.  My left knee had been complaining the last few days about not having any rest days but seemed very happy to be wrapped in its snug leg warmer.  So now we were two men in tights.  The section of highway 1 between Ft. Bragg and Mendocino is not fun.  It's bumpy and there's lots of traffic.  But along the way there was a wonderful botanic garden that was worth the $14 admission charge.
The next day I was prepared for more poor road, but miraculously, it got smooth just south of Mendocino and stayed that way down to Gualala.  I had dinner with some old college friends that night and was amazed I was able to get back on my bike the next morning for our trip to Bodega Bay.  As usual, we took one of the alternates for more miles and climbing. The alternate was King Ridge Road. It was one of our most scenic, traffic free rides on the trip.  When we got to Bodega Bay, I couldn't believe my eyes when I saw our accommodations.  They were spectacular with a beautiful view of the ocean.  I wanted to stay.  We'd been cycling for a week without a day off.  This seemed like a good place to settle in and enjoy the hot tub, the view and the great food at the restaurant across the street.  And that is where Ray and I had our first real "couple" experience.  It's true that all the folks on the tour (except Richard and us) were married couples.  The tour was set up to be at a moderate pace with 50ish mile days which appealed to married couples (three of whom were on tandems).  So our waiter that evening decided we were a couple too, and asked "And what would the lovebirds like this evening?"  Our fellow diners already knew we both had long suffering spouses at home wondering why their husbands were off on this crazy bike trip (I had that same thought a few times myself).  So they had a good laugh.  We did too.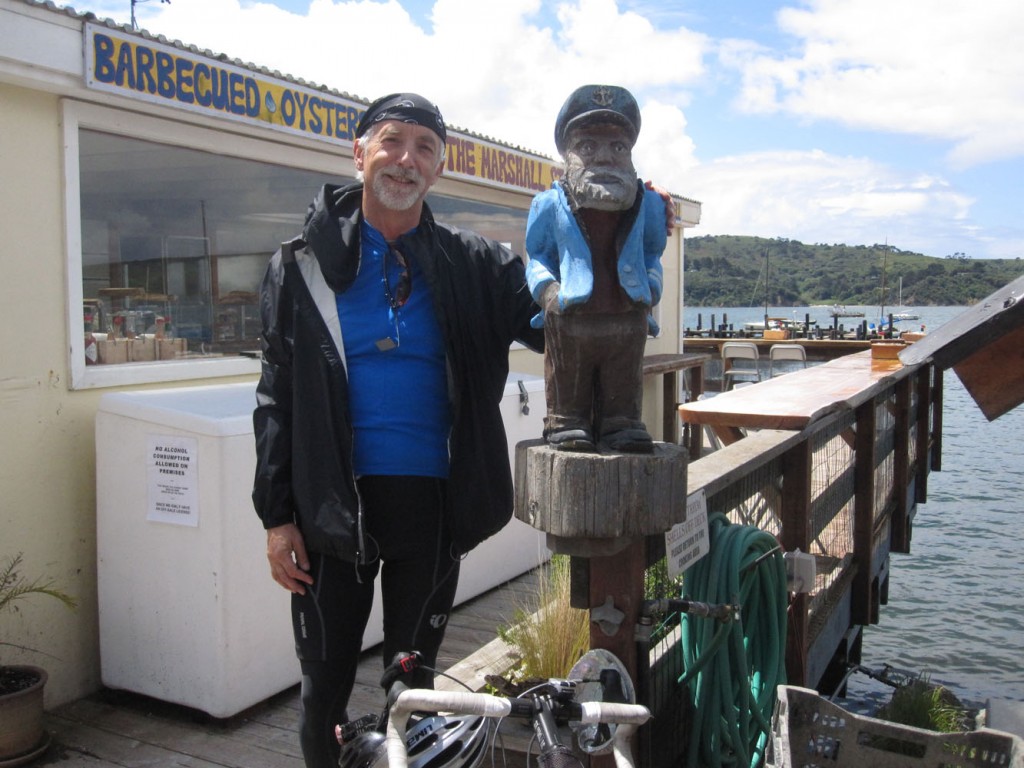 Alas, we had to leave our great digs at Bodega Bay and head down to Olema.  After being together for nine days, Ray and I were really in sync.  We had been riding together all this time with him leading and me keeping track of our route usually quite successfully.  So right after I had my first (and only) flat of the trip, Ray decided he would have his first (but not only) flat of the trip.  Only his had ripped a pretty big hole in the tire.  Just as we were thinking of booting the tire and hoping we had something smaller than a twenty to do it with, Joyce showed up in the van, and Ray was able to get his spare tire out of his luggage.  That's how on top of things Bill and Joyce were during this entire trip.  We had our second "couple" experience when we arrived in Olema.  The receptionist showed us to our room and made sure we knew that we could rearrange the single beds if we wished (wink wink).  She was having so much fun being politically correct that we didn't disabuse her of this incorrect assumption.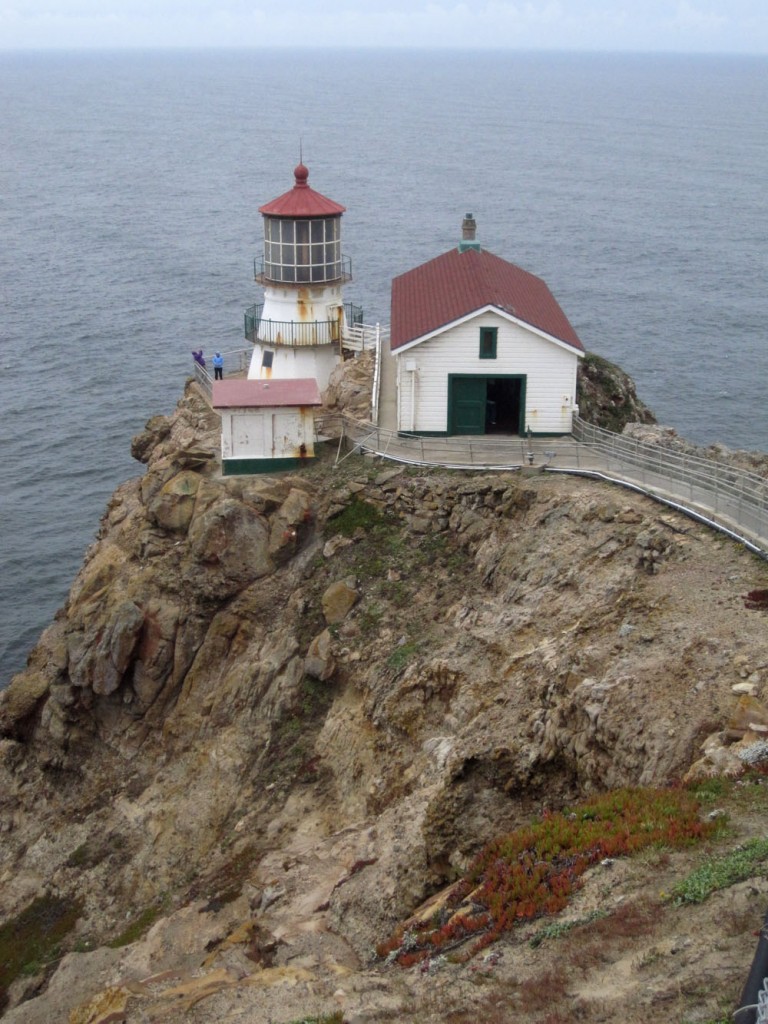 The next day was really really tough for me.  We were just doing an out and back to the Pt. Reyes Lighthouse which was a mere 20 miles away, so we threw in an extra eight mile climb up Mt. Vision.  The climb went well, but then we hit the winds, which were strong and shifted often.  I think it took as much energy to fight the cross winds as the head winds.  The lighthouse was nice but for some reason I thought I needed to climb down (and back) the 300+ steps to see it.  On the way back to Olema my legs felt like lead and I slipped well behind Ray.  He stopped to see what had happened to me.  Ray gave me half his last energy bar (I was out) and after drafting behind him for a few miles, I began to think I might be able to complete the trip.  We made it back just fine. However, I wasn't overly distressed when rain kept us from riding up Mt. Tam the next day (been there – done that).  In fact, I thoroughly enjoyed playing 3 sets of 7  games of nine-ball with Richard even though he beat me 4-3 all three times.
Our last day back to Windsor was delightful with beautiful views and little traffic (until we got close to town).  Ray had a flat but for some reason I didn't, and we were back at the start by 1pm.  The two men in tights had completed almost 600 miles during 11 days of cycling with over 40,000 feet of climbing three flat tires and one broken derailleur cable.  We'd survived 12 happy hours and made some friends I hope we'll see again on subsequent BAC rides.